Before the coronavirus outbreak dominated the news, the Operation Breakthrough team met for three days in February to discern how God wanted us to pray. What followed was remarkably prescient.
We were so grateful to God for the Brexit victory, but realised this is just the beginning. The seismic shift we are witnessing is not just political, but also spiritual – what happens next depends on how we use it.
Get our hearts right
The enemy will seek to fill any spiritual 'void' with his ungodly agenda – but God miraculously led us out of the EU to bring us into our righteous inheritance. Remember that Israel's Exodus journey was highly contested, even after they had departed. The problem wasn't just the enemy, but their own wrong heart attitudes, resulting in a 40-year delay in reaching their God-appointed destination.
We don't have 40 years to get this right, so our heart condition is vitally important. The spiritual temperature of the Church must rise, and we must once more be a voice to our land, for it is righteousness that exalts a nation (Proverbs 14:34).
Return to holiness
However, in order for that voice to be effective, it must be born of love and carry the Lord's authority and character. This authority has been severely weakened due to compromise, and therefore we felt that the Lord was emphasising a return to holiness.
The Word of God must be our plumb line, not the prevailing social climate. A relevant Church is a holy Church! We were never intended to blend in with the world, or to be silent about the wilful dismissal of God's holy laws.
We urgently need to reclaim holiness in our personal lives and congregations. Jesus was passionate about his Father's house. On two separate occasions he entered the Temple, chasing the money changers out with a whip and overthrowing their tables (John 2:13-17).
Clean out the leaven
He did this at the Feast of Unleavened Bread, a week when God instructed the Jews to put leaven (symbolic of sin) out of their houses and there were very serious consequences for disobedience (Exodus 12:13-20).
Jesus clearly took this feast very seriously and we believe he is asking us to deal with leaven (sin) with the same strength of purpose (1 Corinthians 5:6-8). To do this means examining ourselves earnestly before the Lord (as we should before taking communion), then responding to any sense of conviction with true repentance (1 Corinthians 11:25-32). This must become a lifestyle, not just a prayer strategy.
Prepare the Bride of Christ
This 'spiritual clear out' is part of the preparation of the Church, the Bride of Christ, before Jesus' return. It would result in the Church gaining a greater authority to speak to the nation, with "signs (confirmation and miracles) following", as happened in the book of Acts.
We can begin to make declarations in prayer, which will be heard in the spiritual realm; we can bless our nation's people, government, land, waters, livestock and much more. We can pray that our nation returns to God's path for her.
Roy and Brenda Taylor, David Tidy, Kath Charles, Philip Quenby and Dennis Greenidge
Phone Brenda on 07946 456710 for further information and prayer declarations to use alone or with a group. A free set of three CDs on the relevance of the feasts of the Lord is available on request.
Protection from plague
Just as God's people, the Hebrews, were protected by God from the plagues that struck Egypt (Exodus 9-12), so true believers in Jesus can know that they are protected, too.
The area the Hebrews lived in, Goshen, was not touched when the Lord passed over the Egyptians, because they had marked their doorposts with the blood of a lamb. So as believers in Jesus, the Lamb of God, we are not part of the herd but part of the Good Shepherd's flock, under the Lord's hand and in his pasture.
Daily, thank the Lord for his shed blood and, as many have suggested, read Psalm 91 aloud, believing it for yourself, your loved ones and the nation.
Prayer briefing
Coronavirus hostility
Behind the coronavirus pandemic lurks an ongoing hostility between China and the US, made worse because of the crisis.
The Gatestone Institute reported in March that Beijing had nationalised an American factory creating much-needed face masks, while a ship transporting gloves, masks and related protective equipment to the USA was ordered to return to China.
Pray for all necessary supplies to be made available through honest trading.
"Highly infectious" mystery virus was suppressed
Meanwhile, The Sunday Times reported that Chinese laboratories had "identified a mystery virus as a highly infectious new pathogen" in late December 2019 – but they were ordered to stop tests, destroy samples and suppress the news, according to a respected independent Chinese publication. China did not acknowledge that there was human-to-human transmission until over three weeks later, when it was too late to control the outbreak. Censors deleted the report from the Chinese internet.
Pray that patients receive the correct treatment and are not vaccinated unnecessarily.
The Chinese and their Italian jobs
Italy's death toll from Covid-19 had overtaken that of China at the time of writing, when over 4,800 people had died.
Reasons given for the severity of the disease included the ageing Italian population, its low birth rate and the country's failing health system. Furthermore, Italy has a large Chinese community (of over 300,000), many of whom work in the textile and leather sector and originate from Wuhan and Wenzhou.
According to the Gatestone Institute, some may have brought the virus back after spending Chinese New Year on 25 January in those cities, before Italy suspended flights from China. Bergamo, one of the capitals of the Italian textile industry, was one of the first cities affected.
Pray for the Italian health system and for many to seek God in the crisis.
Iran's leaders have succumbed
Iran is one of the four countries most affected by coronavirus so far, due to its extensive trade and diplomatic links with China. The initial outbreaks were in the capital Tehran and the holy city of Qom, so a disproportionate number of senior figures in the Iranian regime have fallen ill. Iran's response to the virus has been ineffectual and hampered by secrecy about the true extent of the outbreak.
The regime has many Christian pastors and 'hostage' women prisoners such as Nazanin Zaghari-Ratcliffe, Kylie Moore-Gilbert (a British-Australian academic sentenced to ten years for alleged spying) and Fariba Adelkhah, a French-Iranian researcher.
Pray that the crisis will cause the Iranian regime to come clean and that the temporary release of political prisoners due to coronavirus will become permanent.
Coronavirus prayers
The Church: that believers across the nation would be salt and light, bringing hope and peace where it is needed most
Your household: for God's love to overtake the spirit of fear (2 Timothy 1:7)
Political and civic leaders: for wisdom, discernment and protection for them and their families
The NHS and the health care sector: for strength, compassion and wisdom
Businesses and those in the workplace: for wisdom as they make critical decisions about the short-term future of their organisations and deal with staff and customers.
Relationships and Sex Education lessons
These lessons will be compulsory for children as young as four from September 2020. Already loopholes have been exploited by minority groups such as Mermaid and Stonewall, who openly encourage exploration of sexuality and gender identity.
Pray that schools will fulfil their duty to consult properly with parents over the material despite schools being closed.
Children outside church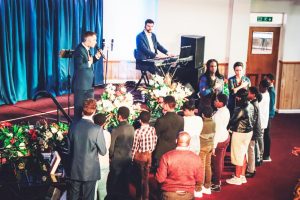 It is estimated that 95 per cent of young people do not attend church.
Vinesong, the international ministry group, has seen increasing numbers of young people wanting to become Christians. After Vinesong led worship at this church, young people came forward to commit their lives to Christ.
Pray for Scripture Union, which gives children sports sessions and Gospel literature and for United Beach Missions to be able to share God's love with scores of children this summer.
Revival prayer in London
Dear Christian friends
If you have a burden as to 'praying for revival' then do contact us so that we may meet, share and pray together in the London area. It would be good to have an initial one hour meeting during a mid-week lunch-time to discuss and pray for revival.
Ezekiel 36:22-23 Therefore say to the house of Israel, 'Thus says the Lord God: "I do not do this for your sake, O house of Israel, but for my holy name's sake, which you have profaned among the nations wherever you went. And I will sanctify my great name, which has been profaned among the nations, which you have profaned in their midst; and the nations shall know that I AM the Lord," says the Lord God, "when I AM hallowed in you before their eyes."
We look forward to meeting and praying with you, as the Holy Spirit leads.
Many blessings
Colin & Madeleine Windsor
201 Nelson Road, Twickenham, TW2 7BB
Telephone: 02087 445 005
Brexit and Europe
Europe is heading for the "mother of all credit crunches", according to international property developer Ben Habib. Youth unemployment is also high: 6 per cent in France, 40 per cent in Greece. "If you want a recipe for war, have high youth unemployment," he told a conference organised by the Bruges Group on 7 March.
Once Britain leaves, the EU will lose £18bn gross pa.
Pray for the churches in Europe to prosper and be a light within their nations.
There are five agreements that Boris Johnson should repudiate if Britain is to leave cleanly without long drawn-out complications, Mr Habib said.
The Northern Ireland protocol which leaves 1.8m British citizens in the EU.
The European Court of Justice; the current agreement still gives them influence over British affairs.
Our signing up for 500bn euros of liabilities to the European Central Bank.
Fisheries: paragraph 73 commits us to quotas into the long term. It's only 0.7 per cent of our GDP but of totemic importance.
Military 'interoperability' – Theresa May signed us up for a joint military endeavour in September 2017 in the Political Declaration – over a year after Britain voted to leave the EU. The EU has already committed to spending 21bn euros on a 10,000 strong EU force and 13bn euros on weapons development.
Pray for the Brexit negotiators' wisdom and persistence in the midst of the health crisis.
Pray for the persecuted
With the focus on our own nation and health, let's not forget persecuted Christians overseas.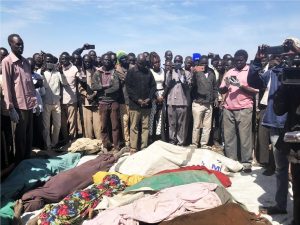 Baroness Caroline Cox told HEART that she had witnessed the immediate aftermath of a massacre in the Christian village of Kolom on the Sudan-South Sudan border. She visited the survivors as founder and CEO of Humanitarian Aid Relief Trust (HART): "We saw burnt bodies still in burning homes."
Suspecting an imminent attack by nomadic Islamist Misseriya herders, the villagers had wanted to flee to the bush for safety, but were urged by the local UN peacekeepers to stay, who then left them to their fate. The Islamists killed 32 villagers and abducted 15 children on 22 January.
Many families have now fled to the town of Abyei, where they urgently need basic food supplies, shelter and healthcare.
For more on the persecuted Church, see:
Book review: "Our ordeal showed us the Church isn't ready"
Pray for missions
Missions and missionaries still need funding, more than ever as many anticipate the return of Jesus.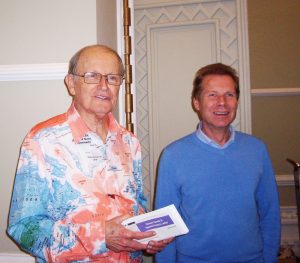 George Verwer, who founded Operation Mobilisation, which has introduced thousands of young and old Christians to the excitement of short and long-term missionary work, told Christians at a meeting on 12 March, "Getting finance is the biggest challenge right now. There are 100,000 people across the world who want to be missionaries, but they're just told to get a job in the country they want to serve."
Pray that believers don't forget the 'Great Commission' – to help others go out into all the world to preach the Good News – even if they can't go themselves, and continue to give, trusting God to supply all their needs.