AFTER THE SAD DEMISE of journalist Guy Fleming, it looked as if readers of Worthing's local paper would be deprived of a regular source of church news.
However, less than a year after his passing, local church member Ros Rowley, a widow in her 70s, has stepped forward to man the pump.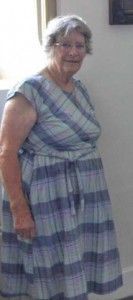 Ros, who admits she is not, "nor ever have been, a journalist" has set rules for what she will publish and will only deal with people by email. She says, "I do not publish notices of purely fund raising events, though something such as a quiz or a concert to raise funds is acceptable; and I do not want any magazines or pew sheets – I do not have time to read them and pick out items. But I will do my best to publish news and events from ALL churches."
Being brought up in a Rectory with a clergyman father whose last parish was West Tarring, Ros cannot remember a time when she did not think she was a Christian. Now she has four children and nine grandchildren, aged 9-34.
Before retiring, Ros and her husband had lived for over 30 years in Camberley. She had worked for the local Community Health Council, formerly the Health Service Watchdog before they were abolished. Now she is as busy as ever: "As well as doing a number of small jobs for my church, I am also on the Diocesan Synod, which entails membership of the Deanery Synod and my church's PCC as well, and I am  a member of the Diocesan Mission and Pastoral Committee."
Contact Ros with news of interest to non-churchgoing readers on pprosr@uwclub.net