POPULAR men's magazine "Sorted" – spearheaded by Sussex-based Christian speaker and writer Steve Legg – has itself scooped a media headline recently.
Journalists' trade title "Press Gazette" has run a story on the publication with the heading, "'Wholesome' men's mag with a Christian slant bucks the trend of circulation decline".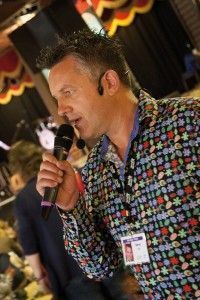 Whereas the circulation of men's magazines such as "Loaded", "Nuts" and "Zoo" have been in freefall in recent years , the bi-monthly"Sorted" has doubled its circulation over the last year from 20,000 to 40,000.
Launched in 2007, "Sorted" has a newsstand sale of 2,000 and 3,300 subscribers with the remainder circulated via bulk distribution deals to outlets including bars, gyms and health clubs.
Business backers pay for the title to be distributed for free into UK prisons and to the armed forces. "The title covers usual men's mag fare of science, football and movies," wrote Emma McGarthy in the "Press Gazette", "but also deals with 'faith'."
Publisher and editor Steve Legg told her he was inspired to launch "Sorted" after talking to a dad. "He was telling me how his 11-year-old son's mates were bringing in lads' mags," said Steve, "and he was complaining at the lack of something more positive and wholesome in the marketplace."
Steve previously made his mark with a unique and funny blend of dangerous escapes, comedy and daft magic. As a Guinness World Record holder for his escapology feats, he has travelled the length and breadth of the UK, as well as internationally.
These days he focuses more on magic and comedy – as well as running the magazine. He's worked on five continents at the most prestigious of venues, including in the UK, Birmingham's National Indoor Arena, Wembley Conference Centre and Manchester's Apollo Theatre – often alongside top names in entertainment.
He's been privileged to work alongside a number of household names, including – Fern Britton, Paul Ross, Helen Shapiro, Gloria Gaynor, Cannon & Ball and Gloria Hunniford – to name just a few.
Clive Price