Veteran minister Rodney Kingstone used to be a household name in Sussex evangelical circles after he started a local church during the heady charismatic renewal in 1981. He's still going strong and CHRIS EYTE caught up with him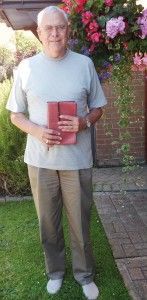 AT 74, RODNEY KINGSTONE PUTS HIS LONGEVITY AND ENERGY down to knowing Jesus as a reality. That 'intimate' relationship has seen him through four decades of ministering to others as well as a miraculous healing of his own heart just before surgery. Rodney, originally from Worthing, is still active in church leadership; currently he oversees prayer and prophetic teams at Arun Community Church (ACC) in Littlehampton.
Rodney also believes that churches in the future offer a very real and positive way of life to society but that they must stop being 'wishy-washy':
"Churches have got to come out clearly on Kingdom issues and stop being wishy-washy on Government legislation, and take a very positive stand that the kingdom of God is a viable alternative to the society we find ourselves living in."
His work for God has seen him support churches in the UK and abroad with visits to 21 countries. He began Broadwater Christian Fellowship (now called River of Life Church) in Worthing in 1981 and later worked for five years as an elder at Christian Fellowship Church, a New Frontiers International fellowship at Columbia in Missouri, USA. Rodney has also written two books encouraging believers in their relationship with God and he is good friends with apostolic church leaders such as Gerald Coates and Terry Virgo.
However, the motivation for all that he has achieved, supported by his wife Pat, is an unbridled passion to get believers interested in really knowing Jesus
Rodney told HEART: "I would say I haven't changed in my aim which is intimacy with Jesus, out of everything else that has to come. I encourage people to live in what I would call intimate relationship with Jesus, not just in an academic way. The apostle Paul in Philippians, as he neared martyrdom, talks of his desire for Jesus – 'that I may know him'.
"That word used in the original language has the same meaning as knowing your wife. It is about full intimate relationship. I feel there are lots of Christians who are doctrinally correct and can explain their faith; but in terms of intimate relationship with God, they don't know what you are talking about."
Highworth Community Church near Swindon has been encouraged by Rodney's input. A recent prayer time by Rodney and some people from ACC saw Swindon church members being given 'words' of encouragement.
"The feedback from these folk was that the things we brought to them were spot on for what they were facing for their lives.
"I try to teach prophecy on intimacy with Jesus and link whatever I am speaking on to that understanding. For example, if I am speaking on the gift of prophecy I would say the purpose is that it unveils something of the heart, mind, will and purpose of God to a group or individual to strengthen, motivate or comfort them. Any gift of the Spirit has to come out of an intimate relationship with God."
Rodney has also experienced a complete miracle with a healing of a heart blockage ten years ago just before he went under the knife for sudden bypass surgery in the USA. He delayed giving the go-ahead for the procedure until he had prayed about it and then had faith that Jesus had healed him.
Rodney said: "I was praying, desperately trying to find faith that I would be healed when God said, 'Son, the trouble with you is that you are viewing faith as a commodity to get healed whereas faith comes out of a relationship and hearing me speak to you'."
Once all set for the operation, the doctor examined him and found that he didn't need to operate after all! His friend Dr Jack Curtis, a heart transplant surgeon, testifies that it was a proper miracle.
Rodney's own walk with God has come a long way from when he first became a Christian as a youngster in 1954. His mum dragged him and his dad to Worthing Baptist Church where Rev Hubert Janisch led a service relayed by sound only from Earl's Court where the respected evangelist Billy Graham was preaching. Rodney remembers ignoring most of the service, he hated the church singing, and Rev Graham's sermon on the Good Samaritan fell on deaf ears.
At the end though, Rev Janisch made an appeal and said: "All those people who really want to know Jesus, leave your seats and go to the front."
"That really grabbed me," added Rodney. "I thought if I could know Jesus as a living reality that must be the most important thing in my life. So I left my seat and went to the front. And that has always been my motivation and desire – to know him. And that is how it began."