PRAYING PEOPLE FROM SUSSEX travelled to Poland to mark a week of commemoration for the 70th anniversary of the liberation of Auschwitz, perhaps the most infamous of the Nazis death camps.
German group launches 100 Days of Prayer for Israel
Their visit during the last week of January also marked the start of a new prayer initiative, 100 Days of Prayer, launched by a German Christian group, which is working with Ebenezer Operation Exodus and the European Coalition for Israel to encourage Christians to pray for Israel, the Church and our own nations between 27 January and the end of May, the celebration of the end of WW2.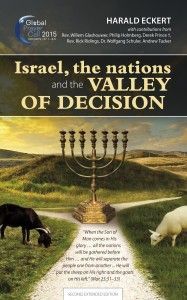 Those who are interested in finding out more can order a free book compiled by Harald Eckert, 'Israel, the Nations and the Valley of Decision.'  It contains contributions by popular writers such as Derek Prince, Jerusalem pastor Rick Ridings and Willem Glashouwer.
Harald Eckert writes:  "This book is intended for praying Christians, for intercessors, intercessory leaders, networks and movements! It is linked to a call—a call to prayer! It is a call to intercessors to pray for their respective nations—all over the world. It is a global prayer call!
"For us, as European Christians, the Holocaust is a painful memory: where was the Christian Church in Europe at that time? It grieves us deeply to have to say that we were mostly indifferent, at best, towards the fate of the Jews. Against this historical backdrop, our question today is this: where is the Church now?
"Today, 70 years later, the Jewish people worldwide, and the state of Israel in particular, are once again threatened with annihilation; they are demonised, terrorised, isolated and treated with injustice—primarily by Islamic nations, networks and movements, but also, to varying degrees, by many others. And what about us as the Church of today—are we indifferent once again, or have we learnt from history?"