This Kurdish child was successfully treated free of charge by Shevet Achim
Groundbreaking Israeli charity offers children vital treatment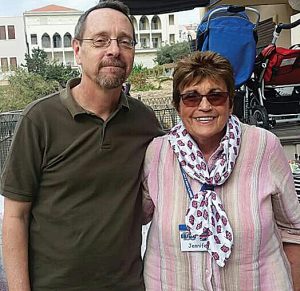 On a recent trip to Israel I met journalist Jonathan Miles, who organises life changing heart surgery for hundreds of babies and children suffering from congenital heart defects, regardless of race or their attitude to the State of Israel.
An American journalist who partners tirelessly with Israeli doctors and medical centres, he founded Shevet Achim (Hebrew for 'brothers together') in 1994. He soon started working with Dr Ami Cohen, a man of faith whose approach was "Just bring the kids, we'll find the money later."
They have treated over 1,000 children from Gaza, but now families are also coming from Syria, Iraq and Kurdistan.
Staff members receive only their basic needs, and medical staff give freely of their time to provide round-the-clock care. This means the surgery can be done for less than a tenth of the cost of Western countries!
Here's how they describe the first time a child was brought into Israel from Iraq:
"It was amazing to watch the Baghdad cardiologist, a relative of Saddam Hussein, pick up the phone to discuss the case with Israeli cardiologist Akiva Tamir. With the help of the Israeli embassy in Jordan, within a week the baby was at the Wolfson Medical Center".
Sponsorship funds cover both hospital expenses and bringing the children to Israel, where they and their families join the community in the ministry's new base near Jaffa for two months.
Shevet Achim's website states: "As volunteers, children, and parents all live together in the same building, the hope is to see the promise of… 'brothers dwelling together'… blossom inside the walls of our home."
Jonathan told me, "A good follow-on to the work they are doing is to help make the Word of God available to these people. That's the real need of the hour that will truly make a difference."
For more details go to www.shevet.org
Jennifer Nevill
Stoke on Trent

Jennifer Nevill is a freelance journalist and produces a weekly news programme, Middle East Report (www.onlinemiddleeastreport.com), for internet Christian radio stations across the UK and Ireland