One of Iris's Holy Spirit-inspired paintings based on Genesis 1
Recently I have been fastening my seatbelt as God fills up my diary – he must be on the move!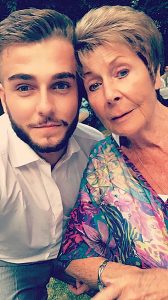 Having already been painting 'prophetically' – under the direct inspiration of the Holy Spirit – in five churches so far over the past six months, I will soon be starting a 'school of the prophetic' to teach on worship using the arts; this will include dance and using flags.
Now Pastor Allen Opoku of Kent Christian Radio has invited me to join the leadership team of a church near Chatham, and has also asked me to do a radio show.
And God is still adding to my diary! Here are my highlights for February and early March: I'm one of four speakers at Sureway International Ministries in Brixton; I'm invited to paint during worship at Mike Bryant Ministries' School of the Supernatural; I'm engaged for a ladies' evening meal at St Paul's Church, Cliftonville and later will attend the Women on the Frontlines conference when Pat King visits Capstone Church, Ilford, where God has been moving powerfully.
Take a deep breath – and look for YOUR opportunity to use your gifts and talents to serve the Lord.  God will fill your time!
Iris Watson
Margate, Kent