In summer 2012 Roger Greene told the story of how God filled "the company nets" of his consultancy business Tricordant, with new business when they believed in a prophetic word from John 21 to "throw their nets on the right side of the boat". Last May he told us how, when the Company obeyed the Lord's word to go and meet him in Galilee, the Lord not only filled the order books before they went away, but he filled their bank account while they were in Israel! Now Roger, who says Tricordant is "on an incredible journey with the Lord", takes up the story.
"When we were in Israel we had many encounters with the Lord both personally and corporately. One of the times of corporate encounter was when we had the privilege of spending an afternoon with David and Karen Davis in their congregation's worship hall on Mount Carmel. The Lord spoke to us prophetically through David that we had to consecrate ourselves to him, to "follow the ark" (the ark of the covenant).
The week-long trip to Israel was so full of special moments that, when we got back to the UK and business as usual, it won't surprise you to know there were a few loose ends we forgot to follow up. But more of that in a moment.
We got back to the UK and were overawed with how God had filled our bank account while we were away, with every unpaid invoice getting paid and our bank balance quadrupling in a week. Plus we had work for several months ahead. Gross and net profits were good.
A picture is worth a thousand words, so in the graph below you can see how our profits grew in the three months between April and June after being in Israel.
You just have to read the graph to see what happened next. From July onwards the profits began to slide and the work started to run out. We weren't getting any new orders, we made losses every month between August and December, the bank balance was gradually going down, and we came to a point in December where we were just able to pay staff salaries on time when an overdue invoice was paid a day or so before the payroll run.
What had happened?
While we were all at peace because we knew the Lord's promise to fill our nets, it is fair to say we were perplexed! Then in October, when we were praying for new orders and work for the team, he showed us that in our business coming back from Israel we forgot the command to consecrate ourselves. This time he really did have our full attention!
As a company we embarked on 40 days of prayer and fasting – the fasting was left for each of us to decide before God what he would have us do, but the prayer had a disciplined schedule of daily scripture to follow for the 40 days. We started in October and finished mid-December.
Now have another look at the profits graph. You guessed it. Once we obeyed the Lord to consecrate the company both corporately and personally, the orders started to come back in. A trickle of new work in late December became a flood of work and new invitations in January! In March our revenues were the second highest ever (the highest was when the Lord filled our nets for the first time in summer 2012) and we made our highest ever monthly gross profit in the company's nine year history!
At our team meeting in March the Lord spoke to us again. He said to remember to consecrate ourselves and the company not only in the times of lack, but in the times of abundance. A timely reminder indeed, and at the time of telling this story in mid-May, the flood of work has not abated and the invitations for new work keep coming in, to the point where we sometimes wonder how we are going to cope. But we also know his promise to fill our nets and they will not break! And then he always intervenes with another little miracle to create the space to do the new work. He really is a far better scheduler and planner than any of us could pretend to be!
The Lord has got us on an incredible business journey. We have tried to be obedient to his call, despite the total lack of "business logic" sometimes. He has given us a mandate and he is guiding our path. Who knows where this will take us? He knows. And that's enough. He is God and we are not!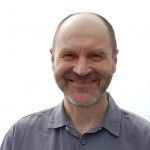 Roger Greene and a group of Christians in business and the workplace meet for breakfast every month in Horsham to pray and encourage one another in their everyday work. If you're interested in joining them please contact Roger on roger@tricordant.com