When Luke Murfitt boldly pitched his fledgling cleaning company to the senior project manager of a major London property developer, he soon discovered he was competing against some of the City's largest commercial cleaning companies.
But this modern-day David and Goliath scenario was about to see him win a contract which would transform his small business and now he works with up to 27 office cleaners and has access to 20 qualified construction cleaners.
It all started in 2015 when a Parkinson's diagnosis forced Luke, aged just 34, to give up his sales career with Worldpay.
"I refused to see the diagnosis as a sentence, only a challenge"
But Luke refused to see the diagnosis as a "sentence". He declares, "My future is in the hands of the Almighty. I saw this as an opportunity to show that nothing is a problem, only a challenge. Now, even getting out of bed in the morning makes me feel like a winner because it's often so painful."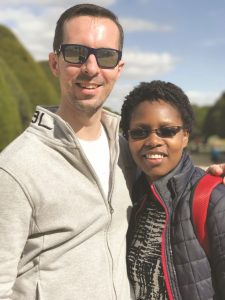 During the 18 months that followed, he tested several business ideas while working independently with Barclaycard. In June 2017 he was inspired to set up his own cleaning company when his wife Diana started cleaning for Knockholt Evangelical Church in Sevenoaks, Kent, to which Luke has belonged for 33 years.
As parents of two young children, they realised that many mothers wanted to return to work but were constrained by term-time schedules. So Luke decided that his company's USP (unique selling point) would be 'supporting mothers back to work'.
Diana started cleaning for other churches, and by February 2018 Integrity Cleaning was registered as a limited company. They were soon hiring more cleaners, most of whom were also churchgoing mothers who could fit their hours around the school run, or even cancel at short notice if their child was ill. "For most cleaning companies, the biggest issue is finding staff, but it's actually my biggest asset," Luke says.
"I didn't want to be responsible on judgement day for preventing people going to church!"
The business had a distinctively Christian ethos: "I tried to dissuade my staff from working on Sundays, as I didn't want to be responsible on judgement day for preventing people going to church!"
Trusting that God had big things in store, Luke got his small business VAT registered and worked hard on its branding. He soon gained a housekeeping contract for a large hotel, and was also selected by Bromley Council to clean Biggin Hill's WWII memorial museum and RAF chapel before national TV attended its opening event.
Luke asked God to open up opportunities for him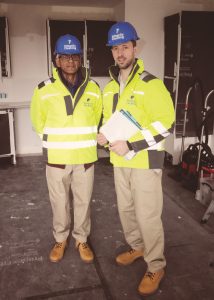 One morning in November 2018, Luke asked God to open up opportunities for him before he set off to run a sales training course in Canary Wharf.
Glancing across the road, he saw seven impressive skyscrapers nearing completion – and suddenly wondered whether they needed cleaning.
So he crossed the road to the Galliard Homes construction site and boldly asked to speak to the senior project manager, to whom he introduced his business. The manager looked incredulous.
"Your timing is perfect!" he exclaimed. "We've been building these apartments for four years and were just three days away from going out to tender for cleaning companies."
Luke's nine-month-old business had never done any construction cleaning before and would be competing against London's largest commercial cleaning companies for this flagship £360m development project, but he and Diana both felt God wanted him to go ahead.
After a whirlwind of paperwork, Luke's presentation won him a six-figure contract to clean a large portion of the 1,000 newly built apartments. This generated 2,000 hours of work per month for his company, allowing him to take on more cleaners and subcontractors.
Before long Luke's team was making an impact on the site: "The senior quantity surveyor told me he wished all contractors worked with as much integrity as we do. Most senior staff on site know we are Christians."
Luke is now focusing on expanding the business, supported by Diana who works on admin and customer support. Business owner Chris Williams came on board as co-director, while another businessman friend from church, Merril Baptist, came out of retirement to be Luke's operations manager.
"Lots of Christians don't realise how their skills, experience, time and finance could enable others to be entrepreneurs," Luke says.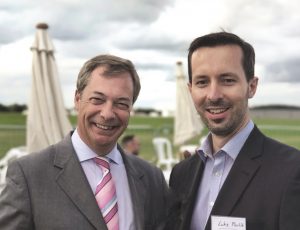 Starting his own company has given Luke many opportunities to share his faith with influential business people, including two appearances on LBC's 'The Business Hour' and meeting former UKIP leader Nigel Farage at a business conference.
"We need more Christian employers"
"Christians shouldn't excuse themselves from being successful. I believe we need more Christian employers, not just employees, who will step out in faith and lead people in an ethical direction. I believe goals are created twice – first in your head, then in reality. With God all things are possible!"
Do you have a great business story? Email details via our website.