Rev Lynda Hulcoop with Martha, a student sponsored by Southwick Christian Community Church
Pastor Lynda Hulcoop lost £7,500 destined for the poor in Zimbabwe days before she boarded a flight there.
Two young women followed her from a bureau de change to Sainsbury's in West Hove in January. The picture shows them about to take the dollars from her bag.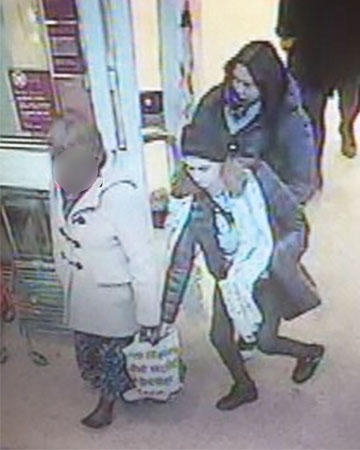 Rev Hulcoop had raised the money with her congregation at Southwick Christian Community Church, a HEART Partner Church, in aid of a farming project, a special school for disabled children and other needs.
Rev Hulcoop explained: "Zimbabwe rarely makes the headlines these days, but the situation there is dire… Normally our charity sends money by bank transfer but this option is no longer viable as the banks only allow people to withdraw US$100 per day involving many long hours of queuing. Thus we had to take cash."
The trip went ahead anyway, but Rev Hulcoop had to borrow money to replace the stolen donations. She told HEART: "I felt we should take out all the money that had been so lovingly collected and donated throughout the year, and so we managed to borrow the stolen sum so that the people of Zimbabwe should not be disadvantaged.
"God is a mighty God and we saw his hand at work in so many ways – churches full, people hungry for him and his word, trusting him with their lives, carrying their pain and not getting aggressive, sharing what little they have with others, praising God in spite of all they lack, waiting for him to bring justice."
Since the trip, gifts have been pouring in to cover the losses: "Thanks to the widespread publicity… to date over 80 per cent of the money stolen has been restored, with some wonderful stories of how God has touched people's hearts, brought a community together and inspired people to support.  We are so blessed to live in such a generous, compassionate part of the country."
As we went to press, Sussex Police were still searching for the suspects, spotted on CCTV.