Susan Pernet remembers the man whose seven decades of ministry saw healings and salvations across the globe
International evangelist Rev Peter Scothern, who died on 10 January aged 89, saw thousands turn to Christ and receive healing during more than 70 years of ministry.
"Brother Peter", as he was affectionately known, received a call to Christian ministry in 1947 when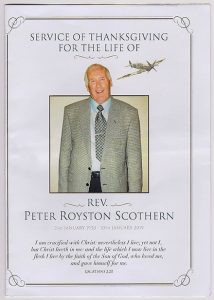 he was just 17 years old: "I was preparing for a youth concert when God graciously called me by name. "Three times I left the stage to answer this mysterious voice. Imagine my perplexity when I discovered no-one seemed responsible. This intrusion, however, was the turning point in my life.
"Intense conviction followed and when I sincerely repented, Christ came into my heart and I fell in love with the Man of Galilee. Dedicated service became my burning ambition…The Holy Spirit enlightened me to understand that the message and ministry of the book of Acts is relevant for today."
He did his National Service with the RAF and took part in the Berlin Airlift before becoming a full-time evangelist, preaching to thousands in India and West Africa. The then President of Sierra Leone, Siaka Stevens, became a Christian at one of these meetings.  There were huge gatherings in Malawi, Zambia, Nigeria, the USA, Jamaica and much of continental Europe.  He also ministered in China as well as around Britain. Here, as elsewhere, God performed wonders.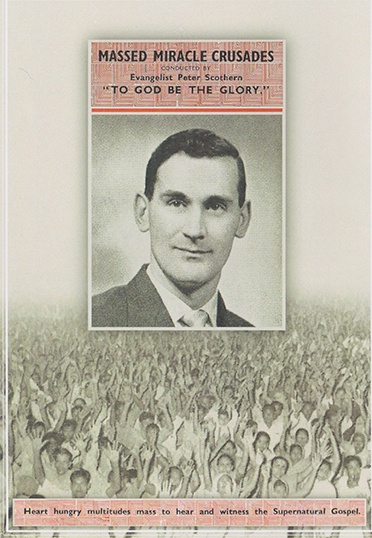 One of the amazing miracles was documented by BBC TV Cardiff in 'The Kilgetty Healer'.  Young Stephen King had been born without a hip socket on the right side. Not only did he have a limp, but he kept falling over. The orthopaedic surgeon said that Stephen, aged 5, needed a complete joint reconstruction.
After his parents wrote to Rev Peter requesting prayer, he sent them an anointed prayer cloth in accordance with Acts 19:11-12: "And God wrought special miracles by the hands of Paul: so that from his body were brought unto the sick handkerchiefs or aprons, and the diseases departed from them, and the evil spirits went out of them."
That night, his mother laid the prayer cloth over Stephen's right hip "in the name of Jesus", asking God to work a creative miracle. She felt movement in the hip beneath her hand and within moments a new bone appeared. The following morning Stephen joyfully ran up and down their driveway without falling.
In the early 1990s Rev Peter's Mercy Missions to Eastern Europe transported over 600 tons of relief aid to Romania, Poland, Bosnia, Albania, Ukraine and to the Kurds in Turkey. Bibles and Gospel leaflets were always included and today there are churches in Eastern Europe which can trace their roots to that time.
There were 40 visits to Israel, taking groups and always bringing alive the accounts recorded in the Bible. Brother Peter was also very interested in the arrival of Christianity to these shores soon after the resurrection; his travelling exhibition, 'AD 37', was shown in cathedrals, churches and schools.
Rev Peter used to hold an annual convention at Tremore Manor in Cornwall, when the house was owned by the late Dr Queenie Adams and Ann Whitaker. It has also been my home and workplace for many years and I remember especially his "armchair chats"; his deep knowledge of the Scriptures made us linger at the breakfast table for hours.
His legacy is in his books, DVDs, CDs, and most of all in people's changed lives.
After Rev Peter's first wife Rita died, he married Morag, who had worked in his ministry since 2004. She remembers: "Peter always said, 'I cannot die for the life of me!'  He knew that to be absent from the body was present with the Lord."