Photo: Pauline Green, now in her 70s, celebrating Christmas in 2013
PAULINE GREEN from Uckfield in East Sussex got in touch after she read the cover story of a pastor's healing in the August/September HEART OF SUSSEX. Pauline says she is a 'walking miracle' after being given only three months to live aged just 11. She told her story to Chris Eyte
It was in January 1954 when I developed nasal polyps and the day after my birthday that July I was admitted to the local hospital for treatment.
I was discharged but still needed treatment and ended up at an ear, nose and throat specialist hospital in London. I went back to my home in a village called Tadworth, near Epsom Downs in Surrey, but I was then admitted to the Royal Cancer Hospital, now known as the Royal Marsden Hospital, with sarcoma cancer. I was told I would be home in four weeks.
I was there during the week but came home at weekends because of the treatment. I remember there was a big machine during the radiotherapy treatment with a spike which came near my face. I felt very frightened, thinking it would go right through my head. I was there for another four weeks and went to school in the mornings. I wasn't allowed to do PE, though, because I had to have a rest. It was irksome for an 11-year-old.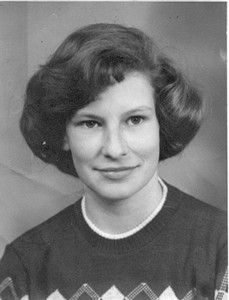 I had been given a new Bible for my birthday and also had Scripture Union notes, so I took them with me to hospital and read them in the morning. I was in the adult female department, not the children's department, as it was nearer the location for my treatment.
The lady in the next bed wasn't very pleased to have a child in the next bed to her and asked me what I was doing, reading my Bible! I explained I was reading daily verses and by the time I went out afterwards she was very pleasant and wanted to know what the scriptures were.
In the hospital I had a written out the hymn, 'What a friend we have in Jesus' and I feel that is very personal for me.
I belonged to the Campaigners' Christian Youth Organisation, which is a bit like the Guides. Two years after the hospital admissions I was up in London for a camp reunion. One of the chiefs came and asked me, "Do you know Pauline Barkaway?" I replied, "You are talking to her", and she suddenly threw her arms around me and said there had been prayer circle groups praying for me.
A long time later when I worked in nursing I asked a consultant for the prognosis for a girl with this type of cancer treated with radiotherapy. He looked at me and said, "Three months".
"In that case," I replied, "Why am I still here?"
He invited me to tell my whole story and I spoke about the prayer circles which had been praying for me. "There's your answer", the consultant said. "That is why you are alive today."
I am still here in my 60s, living in Uckfield, married to my husband Bryan for 50 years with two sons and three grandsons! People think I'm bonkers when I tell them to pray about things. But I say I wouldn't be here if it hadn't been for prayer. I'm a walking miracle because people were praying for me. Prayer does a lot of things.