Sussex listeners had a chance to hear first-hand of the horror of living in Sierra Leone during the current deadly Ebola epidemic.
In an emotive talk at the World in Need offices in Crowborough, the charity's Sierra Leone representative, Pastor Tamba M'Bayo, spoke of the toll Ebola is taking on his country.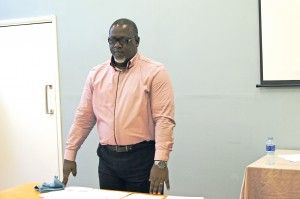 As a pastor, Mr M'Bayo has responsibility for several churches and schools. Up until his arrival in Britain on 21 September, there had been 1,696 confirmed cases in Sierra Leone, and 5,357 throughout the whole of West Africa, of which 2,630 have died.
"No one knows how to stop it or cure it. The disease is not just a health problem. It is also a social disaster. Schools have had to close and children are missing out on their education. Businesses are failing: the economy contracted by 3.8% last month alone," he told the World in Need team and invited guests. The charity's director, David Shamiri, told HEART, "The people of Sierra Leone need our prayers and assistance."