Yes, we missed Wimbledon, but here's a former champion's heart-warming story of forgiving her abusive father
Grand Slam winner Mary Pierce tells how her tennis and life changed
By Andrew Halloway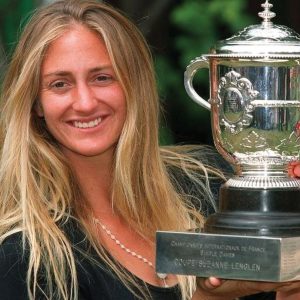 THE last French woman to win the French Open has opened up about the faith that helped her succeed – and forgive her abusive father.
As well as that singles title at Roland Garros in 2000, Mary Pierce won the 1995 Australian Open and 16 other WTA singles titles.
The former world number three and two-time Grand Slam champion also represented France internationally in team competitions and the Olympics.
Born in Canada to an American father and a French mother in 1975, Mary held citizenship of all three countries.
But until she retired from the game in 2006, home was a hotel room and a tennis court.  Her father, Jim, moved the family first to Florida and then, just before she turned pro at 14, to France in search of greater tennis opportunities. She competed most of her career for the country, the homeland of her mother, Yannick.
In the tennis world she was known for her aggressive playing style and fast serve (her first serve was clocked at 139mph), but also for suffering badly from nerves.
This was hardly surprising, given the toxic relationship she suffered with her father, who was also her tennis coach.
"I grew up scared every day"
"Hell on earth" is how she describes life with her father during her teens. He was "so hard, mean and scary. I grew up scared every day."
There were public dressing downs after matches. It was reported that after one humiliation at the 1992 Barcelona Olympics, Mary fled into the locker room crying.
There were also terrifying tirades at opponents and in 1993 the WTA banned her now-notorious father from attending events. Nevertheless, the incidents escalated.
At 18, Mary cut herself off from her father: "I was like, 'I'm out of here. I'm an adult and no-one can tell me what to do any more'."
Shortly after distancing herself from Jim, he instigated a fist fight with her newly-hired bodyguard in an Italian hotel corridor. The minder returned with a knife and stabbed him in the arm, which he claimed left "blood pumping everywhere" and resulted in a four-inch scar.
Battling
Other women might have buckled under the pressure and chosen a quieter life, let alone gone on to win championships. Mary continued on the tennis circuit, battling nerves and climbing the rankings.
Then, the year before the French Open win, Mary got to know fellow player Linda Wild. Mary felt there was "something special" about the American's personality, which she now knows was the joy that comes from "having Jesus in her heart".
After further conversations, Mary decided she wanted the same thing. In March 2000, at the age of 25, just three months before the French Open, she became a Christian, a change so great in her life that she describes it as being "born again" – the same term Jesus used to explain it.
"That is the moment my life completely changed," she says. "It was a period where I was looking for something more. Even if I had everything in my life, I felt an emptiness."
After asking Jesus into her life, "an extraordinary peace washed over me. I knew I had been saved. Everything made sense and I realised that this was God's plan for my life."
Mary told the Daily Express this year that she would not have won the French Open without the peace she found in Christ: "The two were related. Playing the French Open as a French player was always the hardest event of the year because there is so much pressure, so much expectation.
"It took all the pressure off and the stress. I felt it was going to be the year I would win Roland Garros after my first round. It was a little voice inside me."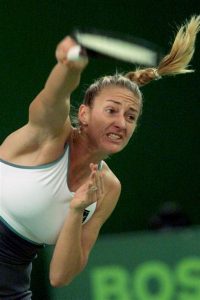 Even the journalists saw the difference in her: "I got to Roland Garros and the media were saying, 'You look so different, you've changed, you are more peaceful and calm, you don't get so mad any more at important points. Have you done some mental training?'
"I explained I hadn't: 'It is just that my life belongs to God now. It is in his hands and his control so I have nothing to worry about.' It totally changed my outlook."
She told the BBC: "I was looking for the truth, answers to my questions, something that was going to bring me peace and heal my heart."
Mary Pierce lifted the French trophy that summer, and no home player has won it since. (She was due to celebrate the 20th anniversary at Roland Garros in June, but the Covid-19 travel bans put paid to that.)
Forgiveness
In addition, her new-found peace helped Mary break free of her father's malign influence.
"Our relationship was restored. It was a miracle"
After becoming a Christian, "I was able to forgive and love my dad and our relationship was restored. It was a miracle when you think about everything that happened."
When her father had cancer, Mary took care of him. One day, while in hospital, her father started crying. "He said sorry for everything. He was just so grateful and thankful. And I said: 'It is OK, Dad. I have forgiven you already.'"
Jim died aged 81 in 2017, wonderfully reconciled to his daughter.
Having experienced God's love for her, Mary wanted to spend her life helping others. After a knee injury in 2006, she moved into missionary work and coaching.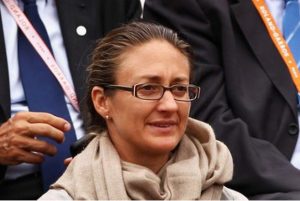 Talking to the BNP Paribas Open website, Mary commented, "I had been to Mauritius in 2005 to visit a church there and I just fell in love with the people and the church and the island so in 2008, when I couldn't play any more and I was tired of rehabbing (trying to get match fit again), I decided I wanted to go there."
In Mauritius, she fed children what "would sometimes be their only meal of the day" and taught English. She also cared for geriatric patients in a hospital in Zimbabwe, washing their hair and cutting their nails.
After settling in Mauritius, in 2010 she started coaching her neighbours' two Mauritian children, Emmanuel and Amaury de Beer, who were 11 and 14 at the time, after their coach left. No doubt Mary was determined to make their youthful coaching experience completely different from her own hellish years and she helped them for five years.
By 2019 she was still happily settled in Mauritius, telling the New York Times, "The two best things about Mauritius are the people and the clear turquoise water. The first time I went there, I felt like it was exactly what I was looking for, praying for. My heart felt at home."
In July 2019, Mary travelled to Australia to be inducted into the International Tennis Hall of Fame. At 45, the former champion radiated joy and peace.
Today, Mary continues to put her faith into action: "I want to touch people's hearts and change people's lives for the better."