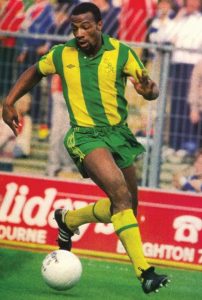 by Andrew Halloway
ENGLISH FOOTBALL lost more than a star when Cyrille Regis MBE died aged 59 in January. It lost a role model.
The ex-West Bromwich and Coventry forward won the FA Cup with Coventry in 1987 and played for England five times. But Cyrille will be remembered most for leading the way for black footballers, along with Laurie Cunningham and Brendon Batson at The Hawthorns.
He was loved by so many because he always treated everyone with kindness and respect, and was a pioneer in the fight against racism in football.
Although he had been brought up with Christian values as a child, he left them behind as an adult. But in July 1989, Cyrille's best friend and former team-mate Laurie Cunningham died in a car crash. The tragedy left Cyrille wondering, "Is there really life after death? Where is God in all of this? Why did this happen?"
His search for answers ultimately led him to what he described as "a real encounter with Jesus".
He was happy to be called a born again Christian and was passionate about sharing his story with others, saying "I meet people all the time, some famous, some not, who are all looking for hope and peace. I have learned that money cannot buy peace of mind so I simply tell people how I found hope and peace in God."
Cyrille was a trustee of Christians in Sport. Paying tribute to Cyrille, General Director Graham Daniels said, "His faith in Jesus Christ… became a fantastic encouragement to many elite sportspeople to consider their relationship with the God who gave them their talents. The man was a giant in his generation."