Happiness for Aisling after her legal ordeal
Last February we reported on the brave and lonely struggle of Aisling Hubert, the young woman landed with huge legal costs after the CPS (Crown Prosecution Service) would not allow her to sue two doctors caught offering to abort unwanted baby girls.
Had the costs not been met, she could have faced prison.
HEART readers responded generously to the call to support Aisling and, along with donations from Christian Concern supporters, her costs were met.
But it turns out that Aisling's battle, which began when she was just 21, was not as lonely
as supposed. Among those praying for her was Jake Goodison, a young man whom she had begun to think of as a best friend; now they are engaged and plan to marry next June.
Aisling, 24, has found a kindred spirit in Jake. She met him when her mother, Caroline, also a pro-life campaigner, brought Jake home to meet the family. Caroline had met Jake at a children's 'light' party (in place of Halloween) at St Peter's Church, Brighton.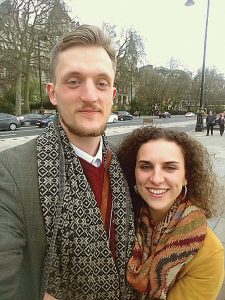 Jake was working as a product designer in Newhaven at the time and had already met Aisling after her first appearance in court with the gender selection abortion cases in 2014, and had also seen her in HEART newspaper.
Aisling explains, "Over those first two years of getting to know Jake and attending the weekly prayer meetings at New Life, our Hove church, Jake became my best friend. He is a passionate evangelist whose heart is fixed on living for the King regardless of the cost."
Jake, 26, says: "I felt that God told me the day we met that she was going to be my wife. I started telling my friends that I had met my wife, but it took a little while for her to feel the same! It has been an incredible journey of hearing God's voice and learning about ourselves and him."
Aisling, who relies on donations to fund her pro-life campaigning work, told HEART: "I saw how much Jake loved both God and people, and that love won my heart. We started courting in January earlier this year and in September he proposed.
"I am so blessed to be marrying a man who has stood beside me throughout the legal battles, praying, encouraging and loving me. He is a gift from God and I can't wait to marry him!"
Aisling is the full-time head of training for pro-life organisation the Centre for Bio-Ethical Reform UK.
To find out more contact info@cbruk.org