No, this couple hasn't been left on a desert island. Lester and Lissy Mason were celebrating their joint beach baptism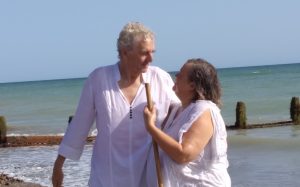 The couple, who have been happily married since 2006, decided to be baptised by full immersion together in early September – happily the sea was still warm.
Their boundless joy can be seen in these pictures; Lissy jumped around in the sea as soon as she emerged, holding up her arms in praise. She told HEART, "Jesus Christ, my Saviour, has watched over me throughout my life and has always been my influence."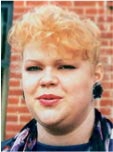 For many Christians this might not sound surprising, but Lissy is a brave survivor of Satanist Ritual Abuse (SRA) inflicted on her as a child within her family, the place she should have been safest.
She explains, "I have suffered abuse all my life. Not just the horrific violations to my mind, body and spirit as a baby and toddler up to about five or six. I have also had a life of drink, drugs and self-hate, but I am proud to say that I have been 100% alcohol and drug free for the past few years."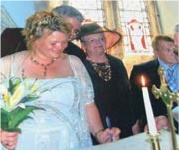 Lissy is now attending an evangelical Sussex church and her passion is to help others. She is an aspiring artist but above all is thanking God for her new life  and her husband, Lester, "the love of my life".
She says, "I am happily married, and that is a miracle. I have hurt myself so much." Please pray for this couple as they walk into their future and for Lissy as she hopes to write a book about her life.
An interview by Jon Wedger with Lissy Mason is on YouTube