GIANT ACTOR Richard Kiel – best known for his role as 'Jaws' in the James Bond films, 'The Spy who Loved Me' and 'Moonraker' died at the age of 73 on September 10 2014.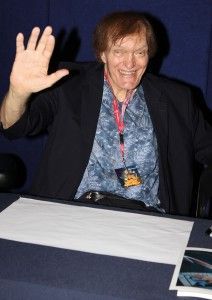 Richard became a Christian at a young age but struggled with alcoholism when he became famous – even putting vodka into beer to make it stronger. One night he watched a Christian TV programme about addiction and prayed at the end. He discovered 'no more overwhelming desire' for booze.
The 7ft 2in giant was then offered a chance to do a beer commercial but turned it down – despite being offered a big sum of money. Richard did not want to encourage others to drink alcohol. Later he did a non-alcoholic root beer commercial instead and earned more money.
He said: "Not only did God deliver me from the bondage of alcoholism, he also blessed my family financially because of my commitment to honour what he had done for me and for not doing what I believed could possibly be destructive to others."
Richard Kiel's Christian testimony can be read online.
Chris Eyte