Until the lights go out?
Until there's another lockdown?
Until there are food shortages?
Until fuel runs out?
Until vaccine deaths are
reported along with Covid deaths?
Until the nation turns to God
in desperation?
Until Jesus returns…
An apocalyptic autumn beckons according to the mainstream media, with the possibility of a return to the three-day working week, along with food and fuel running out due to a shortage of lorry drivers.
Christmas is also under threat, much like last autumn, with the possibility of too few turkeys.
There could also be food shortages next year; HEART has learned of some farmers deciding not to plant crops. Due to the lack of pickers from Europe they have been reduced to inviting locals to "pick their own" for free.
The government has promised the lights will not go out, but other factors could be outside their control.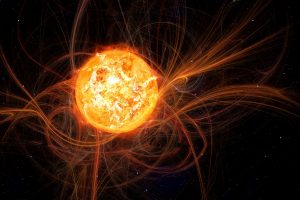 A "catastrophic" blackout cannot be avoided unless governments prepare, according to social entrepreneur Samuel Feinburg. In September 2017, the same year that America's top government doctor, Anthony Fauci, announced that a respiratory disease was on the way, Samuel Feinburg forecast the blackout at a TED talk. As cofounder of Helena, a "problem-solving institution that addresses urgent societal issues" which attracts top movers and shakers, Feinburg warned that the blackout could come from a cyber attack, solar weather or even an electro-magnetic pulse attack which would "fry" one in five electronic devices. If the internet was knocked out, the effects would rapidly be seen in the shops and sewage system.
The World Economic Forum also flagged up a potential cyber attack, hosting an open meeting called "Averting a cyber pandemic", followed by a meeting closed to the public in June. It was said that the effect of a computer virus would be ten times worse than Covid.
Four times as many deaths
The UK Medicine Regulator has confirmed there have been four times as many deaths due to the Covid-19 vaccines in eight months from January to August than deaths due to all other vaccines combined in 20 years. The revelations came in response to a Freedom of Information request this August.
It is also estimated that only between one to five per cent of adverse effects are reported because filling in the standard 'yellow card' report takes up to an hour per patient.
Yet the government is "failing to get to grips" with the scale of vaccine injuries, according to MP Sir Christopher Chope, who told Parliament that despite the evidence from the yellow card reporting system, "The government seems to be denying that in a lot of their literature."
"The government needs to be open with the public about the facts" – Sir Christopher Chope MP
He cited 767 cases of heart inflammation (which has particularly been quoted as a side-effect among young men), 35,000 cases of menstrual disorder and 1,632 reports of deaths shortly after vaccination as at 10 September. "If the government is trying to build vaccine confidence it needs to be open with the public about the facts."
Experts have admitted that the Pfizer vaccines are killing two people for every life saved
Sir Christopher demanded that compensation be readily available for the families of the vaccine injured and dead.
A Milton Keynes funeral director, John O'Looney, reported that although he and other undertakers recorded no excess deaths since the first lockdown in spring 2020, he experienced a 250 per cent increase in workload between January and April this year – which coincided with the first vaccination rollout in his area.
Experts in the FDA, the US's top medical body, have admitted that the Pfizer vaccines are killing two people for every life saved and that there is no clinical data to deny this to overcome vaccine hesitancy.
Panic at the pumps
The Road Haulage Association has blamed the government for not heeding its warnings in June.  By August we were lacking around 100,000 drivers.
Five factors caused the current driver shortage:
There were already too few drivers in 2019.
Brexit caused the loss of about 15,000 European HGV drivers.
HGV testing facilities were closed during 2020 under Covid rules.
The government closed the door to overseas applications by not adding HGV drivers to the list of skilled jobs.
A change in self-employment rules caused employment costs to rise by 25 per cent.
A perfect storm
By June this year food retailers warned that fresh food was being dumped due to the lack of drivers, but a number of retailers quickly worked to resolve the issue.
Our supply chain is run on a "just in time" basis, so even extra snow can cause delays to food reaching the shelves.
Some respected Christians have even had dreams and a prophecy about the lights going out soon.
No panic in heaven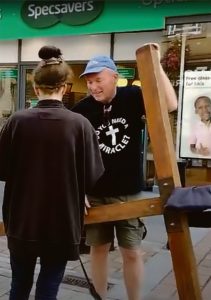 Panic at the pumps can be seen as a metaphor for the parable of Jesus of the "wise" and "foolish" whose lamps were not full when the "bridegroom" (Jesus) returned for his people.
Let us heed his warning and put our trust in him! Our perfect Saviour has a more immediate plan for us: peace, joy and everlasting life.
Church planter and author Jason Carter says: "God will provide if you lay down your life to follow him. Jesus is waiting for the Church to return to him."
Carter had foreseen the current crisis in 2014 and wrote a book, 'Trumpet Blast Warning' and predicted an unholy alliance of the media and pharmaceutical industry. He also made a video in 2019 showing that police would be turning up on people's doorsteps.
He believes the Church should be bolder: "The command of
Jesus is to go out and save lives, but the government wants you to stay at home! The Church needs its own Great Reset and lots of groups are already meeting secretly."
Jesus has promised to return and he will deliver (1 Thessalonians 4:16-18). In fact, this will happen "in the twinkling of an eye" (1 Corinthians 15:52-58).
Ultimately, the plans of all governments will fall to nothing – for God in heaven, upon his throne, laughs at their plans (Psalm 2).
Melanie Symonds and Andrew Baguley
---
Children and the vaccines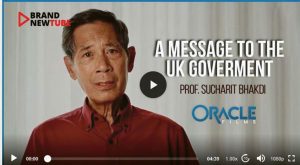 Doctors have been warning about the dangers of giving the experimental Covid vaccines to children as well as adults, but letters signed by scores of medics and scientists have been ignored or rebutted.
Now legal action has been launched against the European and British medical authorities (the EMA and MHRA).
One of the signatories, Emeritus Professor of Microbiology, Sukharit Bhakdi, warned back in May: "Parents are willingly allowing their children to be killed if they allow them to have the Covid vaccine." He has since recorded an open appeal to the British government.
In the US, over 150,000 people, including 600 children, have died from the Covid-19 vaccines, according to analysis of the Vaccine Adverse Event Reporting System (VAERS) by Jessica Rose PhD.
Parents of schoolchildren have received a consent letter from the NHS saying that the vaccines are safe and have been "rigorously tested", whereas the head of the MHRA has admitted to simply accepting Pfizer's own test results. Nor did Pfizer promise that the treatments would be efficacious or without adverse effects in its agreement with the government (clause 5.5).
Dr Roger Hodkinson, a respiratory specialist in Canada, has said that vaccinating children for a disease that university studies have shown has a 99.95 per cent recovery rate in children would be "monstrous child abuse".
There are high levels of censorship of doctors and scientists who challenge the safety of the vaccines. Please email the office if you would like links for the sources quoted