Two Pakistani Christians who were building a church have been shot by locals who don't want the church in their village.
Religious freedom charity CLAAS-UK report that Muslims in the village of Sahiwal in Punjab attacked the Christian community when building started on the church.
Christians Gulzar Masih and his son Azeem, who had donated land for the project, were opposed from the start by some of the Muslims.
After a confrontation about the church on 1 February, Gulzar, Azeem, four other Christians and six Muslims were arrested and then released on bail on 2 February. But later that day, the same Muslim men and others carrying guns began demolishing a boundary wall around the church.
According to the British Asian Christian Association (BACA), they also gathered around the Christian enclave that night, shouting abuse and threatening to rape the women. They challenged the Christians to come out of their homes to face them, and even kicked down doors and dragged some Christians out. The top image shows a BACA representative (left) meeting wounded Azeem Masih, his wife Humaira and young son Tabeel.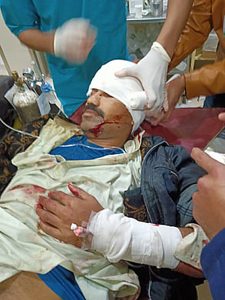 When Azeem and his cousin Sajid Masih did come out, the attackers shot both of them in the head, and another man was injured with an axe. Azeem, 32, is now off the critical list and is slowly recovering many of his senses, though he is still unable to speak and has been moved to Lahore for brain surgery.
Azeem has been married to Humaira, 30, for just two years and they have a baby son, Tabeel, who was just 8 months old at the time of the attack.
Humaira said, "Azeem was a healthy and committed husband and father – a man of God who wanted to strengthen the church with a new building. I cannot understand why these men have acted so violently, as they were not provoked by us – we have tried to live peaceful lives."
She continued, "I am heartbroken. I do not know if my husband will ever be able to speak to Tabeel again. I am not used to seeing Azeem like this, so dependent on others, whereas he was always the first to help them."