A section of the massive crowd at 'Together 2016'
Christians pray for peace in Washington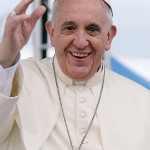 It's not often you get the Pope, international evangelist Luis Palau and Hillsong Church leaders involved in the same event, but those were just some of the Christian figures supporting 'Together 2016' in Washington, DC, on 16 July.
The meeting at the National Mall aimed to gather up to a million Christians to "come together under the banner of Jesus". Pope Francis had promoted the event on video. Founder Nick Hall explained before the event: "We want to have the largest Jesus gathering in America's history."
More than a thousand churches nationwide had pledged to attend the day. Hall told The Christian Post: "The only agenda is Jesus… It's going to be prayer, and it's going to be lifting up Jesus and praying that he changes our hearts individually."
No official figures on the numbers attending were available as we went to press, but photos showed a vast crowd. One of the main focuses of prayer was the recent violence in Orlando, Florida, Dallas and Nice in France, as well as unity in the faith.
Organisers closed the event early, however, as emergency services were overwhelmed with the number of people – more than 400 – who were overcome by extreme heat.