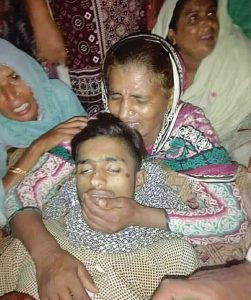 Six Pakistani police officers have been arrested and charged with the murder of a Christian child at his school.
Young Christian Arslan Masih was killed after being dragged out of a classroom by police officers intent on revenge against him for winning a fight with a Muslim boy who had been bullying him. One of the police officers was an uncle of the Muslim boy whom 14-year-old Arslan beat in the fight, which was started by the officer's nephew.
Arslan's father Mushtaq Masih told the British Pakistani Christian Association that several schoolboys had been trying to force Arslan to convert to Islam, and that the police officers "started beating Arslan with fists, kicks and rifle butts. Arslan was in visible pain and was screaming for the men to stop."
Arslan's abandoned body was later found by the roadside by his family.