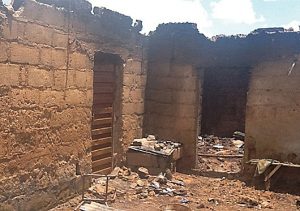 A terrorist rampage in central Nigeria left 48 Christians dead in nine days in October, including many women and children.
The attackers were Islamic Fulani herdsmen – responsible for hundreds of murders in recent years.
The herdsmen broke down doors to slaughter families, burn houses and destroy churches in Plateau State in several attacks on villages between 8 and 17 October.
"Every one of us ran to save his life," said church elder Dauda Samuel Kadiya of the Evangelical Church Winning All (ECWA) in Zanwrua. He told Morning Star News: "All Christians in villages around here have been displaced, and worship buildings have been abandoned."
International Christian Concern pointed out that although such raids by the Fulani and the Boko Haram terror group are not new, "the fact that there is a military force stationed in the area, that has been completely ineffective, raises even more cause for concern."
Christian leaders have accused the army of failing to defend villagers. Rev Andrew Okebe said that when the herdsmen attacked, "the soldiers fled, leaving the defenceless villagers to be massacred."
The Fulani are responsible for over 30 attacks and 250 deaths just in 2017.
A later report added that a Christian woman and her son and daughter were also killed by Fulani in north-central Nigeria, and Rev David Ayeola, 26, was killed after being kidnapped in the southwestern part of the country.