Fulani militants have continued to attack Christians in northern Nigeria, with gruesome murders continuing despite the government-enforced lockdown.
There are almost daily reports of herdsmen bursting into homes, killing families and kidnapping missionaries for
ransom.
After Muslim Fulani herdsmen murdered children on 14 April, Christian charity Release International called on the nation's government to protect Christians in the north.
Armed Fulani extremists had surrounded Hura village, shouting "Allahu akbar" [Allah is greater], shooting their guns and setting houses on fire. As the villagers tried to escape, nine were killed – including a pregnant woman, her three-year-old child and two five year-olds.
"This killing is more dangerous than the coronavirus"
According to ASSIST News, tribal chief Rev Ronku Aka said: "This killing is more dangerous than the coronavirus. It is incessant. I am calling on the government to have mercy and come to our aid."
The Fulani have forced thousands of Christians out of the north and middle of the country, yet the government has done little to help.
Release International CEO Paul Robinson says: "Our message to Nigeria and the international community is: in the name of humanity, you cannot sit back and watch this happen."
On 23-25 April, Fulanis killed 13 Christians and kidnapped 13 others in Kaduna State, causing over 1,000 people to flee their homes.
Muslim Fulani herdsmen also slaughtered families on 11 May, killing 17 men, women and children in Kaduna state days after a pastor and missionary were abducted, sources said. Muslim Fulani residents of the predominantly Christian Gonan Rogo village in Kajuru County had apparently slipped away the night before.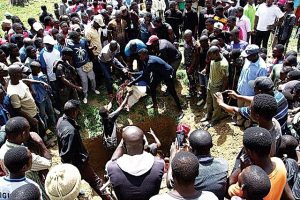 Luka Binniyat, spokesman for the Southern Kaduna People's Union (SOKAPU) said, "It is clear that while the Kaduna state government is enforcing the lockdown against Covid-19 with all its might, it has little or no interest in securing our law-abiding, defenceless communities against these unrelenting massacres and ethnic cleansing."
A warning about genocide in Nigeria has already been given to the UN Security Council by Christian Solidarity International on 30 January.