HEART partner pastor Christy Smith and his wife Linda travelled to Mozambique and Malawi this June to help communities devastated by Cyclone Idai.
Around 1,200 people died and 250,000 were left homeless. In Mozambique, which was the hardest hit, the ensuing floods resulted in over 4,000 cases of cholera, killing seven people.
Pastor Christy and his team helped a Muslim community of 450 families on the tiny island of Ibo, just off Mozambique's coast.
Christy, who leads Brighton's Elim Church, reported, "Right across the island everything had been swept away. We and our partners fed them for three weeks. They were really taken aback that Christians could be so generous. We also left them with much needed aid and cash for tarpaulins."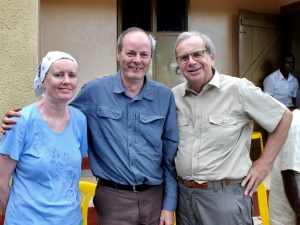 Also helping the cyclone survivors were Matthew and Michelle Barrow from Worthing, who returned to the UK recently after five years of helping street boys in Kenya. They teamed up with HEART supporter John Ray, who runs Hope for Lugazi, to form a combined charity called Hope in Africa.
Papers in the Hastings and Bexhill areas have been distributed for nearly ten years by local Street Pastors co-ordinator Martin West, who is putting on a fundraising golf day on 7 September (see advert on this page).