YOUR COUNTRY NEEDS YOU TO ANSWER THE CALL TO PRAY ON 16 SEPTEMBER
By Rev Lynda Rose
WILL A NEW PRIME MINISTER SOLVE THE NATION'S PROBLEMS?
THE BLUNT ANSWER IS 'NO'. BUT GOD CAN.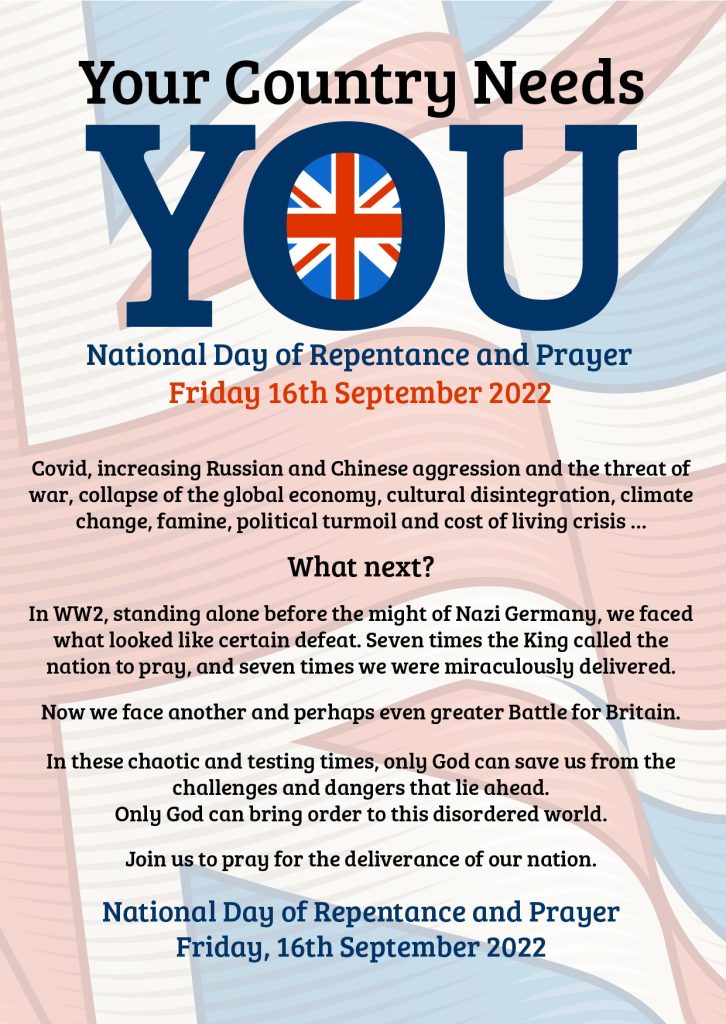 In these chaotic and testing times, only God can save us from the challenges and dangers that lie ahead.
Only God can bring order to this disordered world with its cost of living crisis, increasing Russian and Chinese aggression and the threat of war, collapse of the global economy, cultural disintegration, famine and climate change.
On the current trajectory, things are going to get worse, and our only hope of deliverance is God.
The bottom line is, God stands ever ready to help – but while we continue our hedonistic and selfish lives, he won't.
We have faced the threat of destruction and unbearable suffering before.
Though many do not yet fully realise it, we face a similar crisis to that of WW2.
In WW2, alone and faced by what looked like certain annihilation before the relentless advance of the German forces, King George VI called the nation to pray on no less than seven occasions.
The nation responded magnificently, packing out cathedrals and churches across the land. And on seven occasions, by an act of God, we were delivered.
When our troops were stranded on the beaches of Dunkirk and trying vainly to shelter from constant strafing by the Luftwaffe, it was impossible for our big naval ships to get close enough to pick up our soldiers. Churchill was told we would be lucky if 30,000 men could be brought home.
Faced with the annihilation of most of our army, the King called the nation to pray.
At the same time, in response to a plea for help from the Prime Minister, over 850 small boats, some hardly bigger than rowing boats and crewed by ordinary men and women of all ages, volunteered their help. Ordinarily, the majority would never have made it across the Channel's turbulent waters, but a wholly unforeseen and unexpected calm suddenly descended, enabling them to cross in safety.
Simultaneously, a violent storm in France grounded the German planes, so that they could no longer carry out their deadly attacks.
Of the 400,000 men cowering defenceless on the beaches, 338,000 were rescued and our army was saved – allowing us to continue the fight … and eventually win.
WILL YOU STAND WITH US?
This is a call to the people of God across the nation to come together and pray – in churches, fellowships, halls, and private homes – anywhere people can gather to pray humbly for the salvation of the lost and the deliverance of our nation.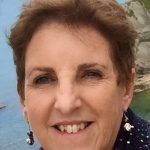 Invitations have gone out to churches, fellowships and the main denominations. Even the Met police has already arranged its service for 16 September and has sent out links inviting people to join via the online streaming service, Teams. It is expected that other police forces will also join us.
See p16 for prayer points. For flyers and information, email info@vfjuk.org
Rev Lynda Rose is leading this national day of prayer initiative, along with Brenda Taylor of Dovetailshalom Ministries, Bishop Henry Scriven and the many other groups which combined forces to put on the Missing Millions abortion repentance day in March. She is a former barrister, now CEO of VfJUK (Voice for Justice). VfJUK also hosts Followers of the Way, an online community meeting: email fotw@vfjuk.org
---
FIGHTING ON THE BEACHES
INSPIRING SHORT FILM AND BOOKS
A ten minute film, 'A dramatic Answer to Prayer – the Miracle of Dunkirk' can be viewed at https://www.youtube.com/watch?v=a8vyfp0aVHk
'When a Nation prays', a book by Pastor Peter Simpson, highlights the remarkable hand of the Lord in controlling the weather at the time of the Dunkirk evacuation in 1940 and the 1944 D-Day Day landings, together with the Lord's aid in ensuring that the nation remained fed during the war years. The harvest in 1942, for example, was one of the most abundant on record.
'Beyond the Odds', a book by John Scriven, charts providence in WW1 (including the miraculous retaking of Jerusalem by General Allenby, a Christian, in 1917), WW2 and the Falklands War. It includes a chapter on Churchill's Christianity.
Both books have been previously advertised in this paper.
---
SILENT SEATS OF POWER
As reported in this paper as far back as 2017, calls from Christians for a national day of prayer have not met a positive response from Buckingham Palace, Lambeth Palace or Number 10.
Therefore others have stepped into the gap, but as Lynda Rose points out, "It is up to you to issue your own call and organise the event."
If your church cannot host the event, invite friends to your home or hire a local hall for all the local churches.