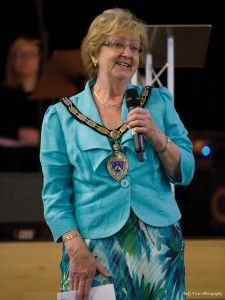 Marian Ayres, outgoing mayor of Littlehampton, shares how she marked the end of her year in office
Many Christians say we shouldn't mix politics and religion, and yet in this amazing year as Mayor of Littlehampton I have had the honour of meeting people from all walks of life, both in the civic realm around West Sussex, local clubs and societies, schools, churches and many individual folk in my town.
My aim was to bring a closer bond between the councils, the churches and the residents. Also to honour those who give so much time and energy voluntarily to better the lives of others.
To this end I decided to have a civic service of celebration for the people. Held in the local school, the Littlehampton Academy on a Sunday afternoon in April, we were led by Pam Rhodes (of BBC Songs of Praise and Premier Radio), Andy Au and his Movement in Worship team from Brighton, Paul Sanderson, the Academy Chaplain, and the Arun Community Church choir and worship band. Together they wove an hour of true community worship and celebration. Many hearts were touched by the message and some confessed to a tear or two!
Wherever we are, whether in the home or the workplace, we take the love of God with us. In these difficult times the need to be out in our communities is greater than ever. And wherever God leads, he will equip and protect!