HEART's letters page provides a forum for Christian opinion and contributions of up to 200 words long are welcomed, although more likely to be printed if you can make your point in 50-100 words. Letters may be shortened and all are sub-edited.
Letters deadline for the June/July 2017 issue is 9 May.
Abortion is illegal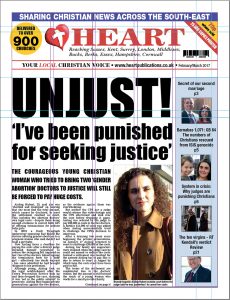 Aisling Hubert's efforts to enforce the law for the protection of unborn children (February/March) should not be necessary.
Last November I went to an event in London where Ann Furedi, the chief executive of BPAS, was promoting her book 'The Moral Case for Abortion'. She gave a presentation in which she affirmed the necessity of decriminalising the termination of pregnancies.
When it was my turn to intervene, I held up a copy of the indictment in which the Nuremberg Tribunal (the 'RuSHA Case', 1948) had condemned abortion as a crime against humanity of murder in international law. Then I held up a copy of the International Criminal Court Act 2001, which on 1 September 2001 imported this precedent into our domestic legal system and thereby repealed the Abortion Act 1967. There is, then, no legal abortion in the United Kingdom.
I told Ann Furedi to her face that, had she been a defendant before that Tribunal, it would have sent her to the gallows.
Michael Petek
Brighton, Sussex
Christians should be influencers
It has long been the case that a decision to prosecute is made on public interest grounds as well as on the letter of the law, as in the gender abortion case. The Crown Prosecution Service jealously guards this aspect of its role. In other circumstances this could be good, as it potentially protects Christians from vexatious lawsuits too.
We need more Christian voices in high office, so that such discretionary decisions are taken based on biblical values. We have emphasised service in Christian ministries, while neglecting the role of Christians as influencers of society. This needs to be challenged.
Colin Newton
Southend-on-Sea, Essex
Helping the destitute in Kenya
In the February/March issue you referred to my visit to Kenya on page 19. We saw wonderful miracles which are in the full version at www.heartpublications.co.uk.
However, I was unhappy that page 19 referred to me as a former armed robber. That was back in 1992 before I gave my life to Christ. He has changed my life and now I am in full-time ministry helping the homeless in Bognor Regis and lead Big Love Church at the Jeneses Centre where we hold services.
Michael Johnson
Bognor Regis, Sussex
All an illusion
Premier radio has highlighted the story of Derren Brown, the mentalist and illusionist who can reproduce a charismatic meeting and healings, with Christians present.
Yet he is an atheist.
I am reminded of the magicians who mimicked the miracles Moses did when he first asked Pharaoh to let his people go.
We need to be so focussed on Jesus, that we do not fall for deception that will lead us astray.
Rowena Osmond
Belvedere, Kent