HEART's letters page provides a forum for Christian opinion and contributions of up to 200 words long are welcomed, although more likely to be printed if you can make your point in 50-100 words. Letters may be shortened and all are sub-edited.
Letters deadline for the August/September 2017 issue is 13 July
Jerusalem's Jubilee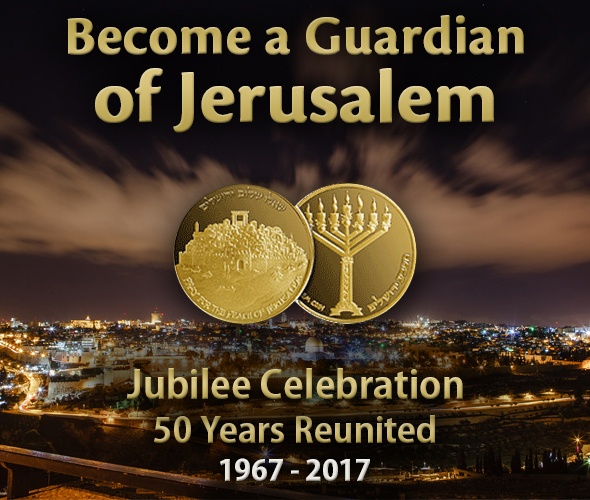 This May marked Jerusalem's jubilee, 50 years after her reunification in 1967 after the Six Day War (the date is set by the biblical calendar).

East Jerusalem, then illegally annexed by Jordan, was off limits to Israelis and the Jewish Quarter was desecrated by the Arab forces after the British left in 1947, with Hebrew graves used as paving stones and synagogues as latrines.
The British had ruled Jerusalem from 1922-1947. Famously, General Allenby dismounted from his horse and entered on foot through the Jaffa Gate when he took the city in 1917. He had defeated the Turks who had ruled Jerusalem for 400 years from 1517-1917; under the Ottomans no new Christian churches could be built in what was then termed Palestine.
Allenby's victory took place 100 years ago this year, the year of the Balfour centenary, too. Sadly the British eventually reneged on many of the promises they made to the Jews concerning a national homeland.
For 50 years the City of Peace, "Ir-salem" has no longer been divided, but as any visitor will witness there are four quarters in the city for Jews, Christians, Muslims and Armenians (who were also a people of refuge fleeing the Holocaust under the Turks).
King David, Israel's greatest king, exhorted in the Book of Psalms, "Pray for the peace of Jerusalem." The Hebrew word for 'peace' is 'shalom,' meaning also wholeness and completeness. In Arabic, also a Semitic language, it is 'salaam,' the two peoples stemming from one father, Abraham.
Hebraic peace means wholeness – not the world's idea of peace by re-dividing it again – 'piece by piece.'
The territory of Judea where the city is situated is taken from the same word as 'Jew' meaning 'praise' in Hebrew. We should be praising Israel today for the good job they have done in keeping the Holy City in relative peace for five decades.
Colin Nevin
Chef, King Solomon Restaurant, Hilton Tel-Aviv, Israel 1991-2002
Reversing the Exodus damage
Thank you for the article by Jennifer Nevill about the Day of Prayer led by Rosie Ross for Repairing The Breach' (RTB) this March in preparation for the Balfour Centenary year (HEART April/May 2017).
I would like to clarify some details for those considering attending events.
Our desire is to express sorrow for many British actions during the Mandate years of 1920 – 1948 which led directly or indirectly to the death and suffering of many Jewish people during and after the Holocaust and also to make amends to those Israelis still alive.
The Exodus ship with 4,500 refugees on board was rammed, boarded and turned away from Haifa port in 1947 by the British, leading to the deaths of three Jewish people and the wounding of up to possibly 200 others. Afterwards three British prison-like ships took them back to Germany.
In July and September 2017 EXODUS 70 commemorative events at Haifa are being planned. We would like to encourage British Christians to attend these events.
RTB is actively involved with Balfour Centenary events in Israel to mark the 100 years since the capture of Jerusalem led by General Allenby with British and Anzac forces.
Jan Cooper (Bristol) and Rosie Ross (Israel)
repairingthebreach2017@gmail.com
Iraq's Christians
Islamic State (ISIS) has been losing territory in Iraq. The battle to take back Mosul continues but although the formerly Christian Nineveh Plain has been recaptured, ISIS deliberately destroyed its villages before withdrawing.
Thus although there are thousands of displaced Christians in refugee camps in the Kurdish controlled region of Iraq who want to return to the Nineveh Plain, their homes have been destroyed.
Unfortunately the UK government has been reluctant to give any aid directly to Iraq's decimated Christian community, despite its role in triggering the vicious atrocities against Christians by joining the US's invasion of Iraq in 2003. Previously 1.2 million, Iraqi Christians now number less than 300,000. They are hanging on by their fingertips and need our prayers and practical support.
Write to Minister of State Rory Stewart MP, OBE, at the Dept for International Development (DFID) and also to Tobias Ellwood MP, Minister at the Foreign and Commonwealth Office for the Middle East. Urge them to ensure that significant government aid is provided to Iraq's Christians to enable them to rebuild their lives in the Nineveh Plain and to enhance their security there.
David Skinner
Bournemouth
Christians and high office
Major General Tim Cross wrote of the government's perceived failure to protect Christians in the Middle East (HEART April/May 2017). Colin Newton (Letters April/May 2017) also called for more Christian leaders in high office to tackle this issue.
While a few Christians may be given strength and ambition for high office, they need a suitable psychological make-up as they must cloak their Christian motivation, avoid the temptation of a high income and survive a prevailing liberal worldview while remaining true to the Bible's teaching.
The 'Myers Briggs' (MB) test is widely used in the workplace to match people to team roles. MB tells us that top people are 'outcome focused' – extrovert, intuitive or practical, thinking and organised.
This is not the MB profile of the majority of Christians whose bias is likely to be towards intuition, feeling, teaching, music, healing, caring for others – putting people first. They seek to serve people's spiritual needs through sharing the Gospel and God's love and this is not usually what the world sees as 'outcomes'.
Christians need to know themselves and prayerfully match their gifts to the right job.
Becoming a top expert in a narrow field may lead to real influence especially when combined with character and integrity.
Two such men are Archbishop Carey and Major General Tim Cross; surely if they launched a national appeal to UK churches to raise funds for Christians in the Middle East, money raised would go direct to the suffering and by-pass UK officials. 
Alison Littlecastle
Tunbridge Wells 
Rare Promise
I wanted to see the recent historical film 'The Promise' as it's set during the Armenian Genocide, an atrocity that seems to have been largely overlooked.
It reflected the growing tensions followed by the outbreak of mob violence and looting in a very credible way. The subsequent ugly pogrom is portrayed sensitively without harrowing scenes of gratuitous violence while reflecting the horrors of the violence enacted by the Turkish army against civilian men, women and children.
But all the showings we could find locally were around midday or early afternoon.  The only evening screenings were in London's Leicester Square and Shepherds Bush, a strange state of affairs for a film with such big names (Christian Bale, Charlotte Le Bon, Oscar Isaac).
A little research indicates there's pressure to shut this film down (see Variety article 'The Promise': The Armenian Genocide Epic Kirk Kerkorian spent a fortune to make), as the Turkish government has always denied the genocide.  According to an article in the Telegraph, a Turkish-funded film called 'The Ottoman Lieutenant' was released several weeks ago, which supports President Erdogan's acknowledgement in 2014 that Armenians had "lost their lives" and he sent condolences to their descendants.
But he implied that they were victims of a war in which all Ottoman citizens had suffered — rather than the victims of a genocide.
In 2016, President Erdogan was reported in Al Jazeera as stating that "charges that the Ottoman Empire committed a genocide against the Armenians are being used as "blackmail" against Turkey, insisting that Ankara will "never" accept such accusations." (4th June 2016)  This was in response to the Germany parliaments decision to label the 1915 atrocities as genocide. He added that Germany has no right to comment on genocide, given its own history during World War II and in Namibia (surely a spurious argument – what you did was worse than what we did).
So why are Odeon and Cineworld showing at such inconvenient times?  Is it simply from fear of a backlash from radical Turkish Muslims, or are they under other pressures?
Christopher McCanna
Worthing