Pauline Peachey thought she'd done the right thing by aborting her baby when she caught German Measles.
But three years later, she ended up in a mental hospital. In her darkest hour, she cried out to someone she couldn't see and now she's helping others and tells them: "There is a way through"
I was married, 24 years old and expecting my second baby in 1970 in a London Hospital but I was ill with German Measles. I was persuaded to have a suction abortion.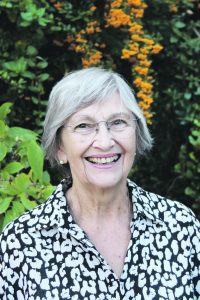 The woman in the bed next to mine had been fighting for the right to have an abortion and finally the doctors had given in. She explained that what she was doing was called 'proving the act' – that the parameters of the abortion act were being challenged by woman like her who were establishing a precedent so that all women could have access to abortion on demand. Her commitment to what would be called today 'a woman's right to choose' was so great that she'd got pregnant for the express purpose of having an abortion.
In the end I had my abortion. But my life was never the same again. I can never forget. I failed to protect the one who depended on me for everything. I denied my little one's right to life. For a while it was a secret. Then I decided that I couldn't deny that it had ever existed, so I tell my story.
In 1973 I ended up on a locked ward in a London Psychiatric Hospital. Everything frightened me and I was so drawn to death. I had nearly killed myself; waiting for the tube I'd almost walked off the edge of the platform but realized just in time that my little boy's hand was in mine.
Looking back, it's a surprise to me that nobody understood why I was in such a state. They had my medical records. Surely, they could see that I'd changed in a very short time from a healthy woman with a stable family life, a good husband and a lovely little child to a homeless wreck of a person with no self-respect. Didn't anyone then understand that the abortion might have had some bearing on my condition? I certainly didn't.
The answer seemed to be drugs, and plenty of them. I remember realizing that I would die if I continued as I was. The voices in my head were now my biggest problem. They kept telling me to give in to despair "Give in! Life isn't worth living!" If I could just find the way back to a life worth living. "NO, they shouted, you'll never find it".
And then, at last, there was hope. Someone said I am the way. I am the way, and something about life. Jesus. Jesus knew what it was to suffer. He was good, he was kind, he was brave, I could trust him.
But he was killed. The dead can't help us. Was Jesus still dead? But there's just a chance, and it's the only one I seem to have, so here goes.
"Jesus. I don't know if you can hear me. I don't know if you can help me. But if you can – I'll let you."
There, that's the best I can do. And, a miracle. The one thing I needed. I went to sleep – real sleep.
I left the hospital in less than a week. I got rid of the drugs they gave me. I had the shakes, and often collapsed; it took quite a while before they were out of my system. I have never suffered from those things since then, never been on medication for mental problems before then or since then.
Looking back, I can hardly believe what I've endured. What I've survived. I have a lovely life now, but I don't forget that there are so many women and young girls who have been through the same trauma and struggle as I did. This is just a small part of my story. May it give those who need it the hope to fight on to find their "Life worth living"
Since then, I have established PASE (Post Abortion Support for Everyone) at: https://www.postabortsupport.com/. This is a project of CBRUK (Changing Views on Abortion) https://www.cbruk.org/
I have been contacted by women from more than 70 countries through the Facebook page, a large proportion of them seeking understanding and a way forward after losing their babies to abortion, the rest asking for my help to obtain an abortion.
Almost all of these decided to keep their babies when they saw the baby's development, understood that it was their little son or daughter, recognised that this is an unexpected gift from the Creator, and they could trust in him no matter how difficult their circumstances.
We have a Recovery Course that has helped over 20 women over the years. This is exclusively run by mothers bereaved by abortion who, through the Recovery Course have received some measure of healing and continue their journey by reaching out to others. They are trained and trust in God.
Details here: https://www.postabortsupport.com/resources#Recovery-Course.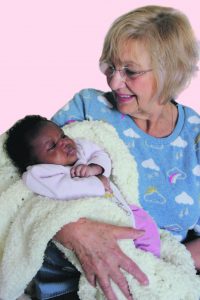 We continue to be contacted almost daily by women and men who have lost a family baby to abortion. There is no recognition of how this so often devastates a whole family. The work is enormous. The healing bought on the cross by the blood of the Lamb is greater. The opportunity to share the grace of God with those who have carried a secret burden, often for years, is an amazing privilege.
Some of the comments from women who have completed the course:
"Looking into other areas of my life has been significant; helping me to see why I made the decision I did. It is important to look at the 'bigger picture' as this can facilitate self-healing, acceptance and bring understanding of why 'you' took that path. The most important thing I have identified is having the insight that 'we' all need to be educated/value the life of the unborn."
Each week was relevant to my experience and enabled me to considered and process what I was unable to at the point of making the decision to have an abortion. The most informative part of the course was week six, when we looked at who was responsible for the death of our babies. I had always felt that the responsibility was entirely my 'choice'. However, the unborn child needs the voice of everyone to protect them".
This is our vision, our guiding light:
"The Spirit of the Lord is on me, because he has anointed me to preach good news to the poor. He has sent me to proclaim liberty to the captives and recovery of sight to the blind, to release the oppressed, to proclaim the year of the Lord's favour." Luke 4:18-19
Pauline has also been inspired to write a poem about her journey:
I'm walking around but I feel like I'm dead
I'm frightened by the thoughts in my head
Death is so final, forever it lasts
Oh, let me go back and change the past.

I should have been stronger
I should have said no.
Oh why did I let my little baby go.

I feel that I've come to a real dead end.
Who can I turn to, what can mend
That foolish mistake, I trusted the lies
My sorrows and angers reach to the skies.

I need to get rid of this troublesome burden
My head is tired, my heart is hurtin'
I can't accept this is my life
Please give me peace instead of this strife.

Perhaps if I concentrate on the truth now
Guilt and regret is a hard row to plough
Is there always hope, a way through the mess
Someone listen, to let me confess?

Someone who said he is the way
Would he have pity on one who's astray
Would Jesus really care for me
Did he conquer death, Is forgiveness free?

Oh that's what I need – his power and love
His mercy and care from heaven above
Jesus I'm reaching out my hand
Take hold of me Lord, you understand.

Take care of my baby, take care of me
Cover my sin, give health and sanity.
I'm giving my baby into your hand
Until we meet again in your far-off land.

Until then, Jesus, I need you each day
I know I've chosen a dangerous way
Walk by me and keep your foolish child
I trust you Jesus, you are gentle and mild.