As even UK Jews no longer feel safe, a mass exodus from our Jewish community is a real possibility
By Charles Gardner
One in three of Britain's 300,000 Jews are reported to be seriously considering emigration due to a combination of rising anti-Semitism and the prospect of Jeremy Corbyn becoming Prime Minister – a doomsday scenario expected to inflict great damage on the economy.
In a House of Lords debate, former Chief Rabbi Jonathan Sacks said the scale of anti-Semitism was comparable to that of the Holocaust era, adding that there was not a single country in Europe where Jews felt safe.
Referring to Labour, he said that a political party that tolerates anti-Semitism has "forfeited all moral credibility".
Meanwhile, the inclusion of LGBT lessons in Relationships and Sex Education is another cause for concern among the Orthodox Jewish community – and could make thousands leave the UK, one ultra-Orthodox Jewish activist has warned.
And in east London, a knife-wielding man threatened to behead an Orthodox Jew as he walked down the street.1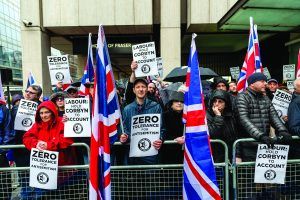 Jews are feeling increasingly trapped in what is virtually a déjà vu moment for God's chosen people – except this time they do have a place of refuge.
However, with Israel too under severe threat from all sides, they have the potential for being caught in a trap once again if we keep giving way to dictators who hate them.
Indeed, a senior Iranian lawmaker has said the Jewish state wouldn't last half an hour if the US attacked his country.2
Britain has entered stormy waters with Iran
Now Britain has entered stormy waters with Iran, becoming an apparent target for Iranian revenge in early July after seizing an Iranian oil tanker. The vessel was believed to be headed for Syria in defiance of sanctions against that country.
Iranian vessels subsequently captured a British-flagged tanker on 19 July, the Stena Impero, having warned that they would seek revenge.
The Iranian crisis has revealed the ineptitude of Britain in being party to the nuclear deal that was never going to work, especially in the light of evidence that Iran has exceeded the limit of enriched uranium to which it had agreed.3 And President Trump has been proved right in pulling out of it last year.
As the first line of defence from any fallout over the spat, Israel is right to question the commitment of nations, including Britain, to their welfare.
"Iran has violated its solemn promise under the UN Security Council not to enrich uranium beyond a certain level," said Prime Minister Netanyahu, asking the signatories to the Iran nuclear deal, "Where are you?"4
Well, Foreign Secretary Jeremy Hunt has said Britain would pull out if Iran breaks the deal5 – so watch this space.
But with our stubborn refusal to follow the US lead on this, as well as recognition of Jerusalem as Israel's capital, we are allowing Iran to play off key allies against one another, thereby strengthening the position
of the world's leading sponsor of terror.
I realise our appeasement of Iran is for economic reasons, but there comes a point when we need to do the right thing. And since we are not blessing Israel by kowtowing to Iran, siding with America on this issue would obviously be the right move.
Nevertheless, a mass exodus of UK Jews is a real possibility. Since Jeremy Corbyn became Labour leader, anti-Semitism is no longer confined to Labour's fringes; in the BBC Panorama investigation, the evidence all came back inexorably to Corbyn himself and his personal hostility to Israel and ambivalent attitude towards Jews (BBC1, 10 July).
The increasing unease in which the Jewish community finds itself reminds me of the mother eagle who, when teaching her young ones to fly, gradually removes the comforting straw of their nest.
Nearly seven million Jews are already in Israel within just a couple of generations of its rebirth
Not that Mr Corbyn has their best interests at heart, but the God of Israel surely does (Jeremiah 31:3) and will use people to fulfil his plan to bring them all back to the Promised Land. Nearly seven million are already there within just a couple of generations of its rebirth.
Such an exodus will inflict serious damage on our economy, possibly on a bigger scale than Brexit
Their return is in perfect fulfilment of many Old Testament prophecies. For example, Isaiah writes: "I will bring your children from the east and gather you from the west. I will say to the north, 'Give them up!' and to the south, 'Do not hold them back'" (Isaiah 43:5).
An exodus of British Jewry will inflict serious damage on our economy, possibly on a bigger scale than Brexit, but it's a price we may have to pay for our silence on the issue of anti-Semitism on the one hand, and the fulfilment of God's Word on the other.
Bear in mind that it was God's purpose for Jesus to die for our sins (Isaiah 53:10), but the man who betrayed him did not go unpunished (Matthew 26:24).
In the same way, it is God's will that Jews scattered across the globe should be restored to the Holy Land before he returns to reveal himself to them (Ezekiel 39:28f). Nevertheless, those who have mistreated them will come under a curse (Genesis 12:3, Joel 3:2).
Britain is privileged to have played a special role in Israel's restoration, though tragically we have also betrayed them over the years – even now most of our churches ignore their well-being.
But now we have another chance of coming to their rescue. As God once spoke through Isaiah of how he would use Cyrus, the Persian emperor, to rebuild his city and set his exiles free – "but not for a price or reward" (Isaiah 45:13) – we too must do the right thing by his people.
References
World Israel News (WJN), 3 July 2019
Ibid, 2 July 2019
Jerusalem News Network (JNN), 5 July 2019, quoting Reuters
WIN, 7 July 2019
JNN, 5 July 2019, quoting Jerusalem Post