Meet the former heroin addict feeding dozens of hungry families and addicts on his old council estate
Yvonne sat miserably in the courtroom, clutching a carrier bag.
She'd been arrested for allegedly assaulting a police officer who had come to arrest her son – and was so sure she'd be in prison by the end of the day that she'd packed her belongings in advance.
The judge had been dealing with Yvonne's family for 20 years and didn't look happy. But then her pastor stood up – and told the court that she had given her life to Jesus and was having Bible studies in her house!
When the judge returned from her deliberations, she said, "This is the best news I've heard this year. I can see that you are not in a financial position to pay a fine, so the court will not be charging you. You're free to go."
Yvonne is one of the many marginalised people in Southampton for whom Bob Light speaks up in Southampton's Magistrates' and Crown Courts every year.
"I also stand up for families on benefits threatened with eviction from their homes," the former pastor says. "We've seen miracles happen in court."
It is over two decades since the former heroin addict returned to his old council estate, notorious for drugs and violence, to help its families living on the edge of poverty. Now he and his wife Colette feed around 200 needy and homeless people in Southampton each week. Through their charity, Flower of Justice, they gave out over 68 tonnes of food in 2018.
The food is provided by the charity Fareshare, which collects surplus food from supermarkets for those in need. Surplus food can be due to over-production, labelling errors or short shelf life.
"People ring us up crying because they've never had such good food before," Bob told HEART. "Many have very little furniture and nothing in the cupboards. It's God's kindness that leads people to repentance."
The couple say they are "leading addicts and alcoholics to Jesus every month" and have baptised more people than they can count.
They have been able to take several people to Christian rehabilitation centres such as Yeldall Manor near Reading. "In the world you do six to eight weeks of rehab, then you go straight back to your old mates," Bob says. "But with God, it's a total change of lifestyle."
"I was hooked on heroin for 27 years"
In 1993, my marriage had broken down and my two kids were out of the picture.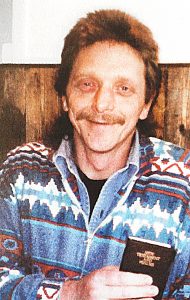 I was left with a clapped out car and a carrier bag of stuff; my heroin addiction had taken everything else. I had never felt so brokenhearted in my life.
I weighed just seven and a half stone and my psychiatrist thought I was going to die. All my clothes hung off me; I felt like a wire coat hanger.
All the time I was hearing voices in my head telling me to kill myself, making me completely paranoid. One night I stood on a beach in Cornwall and screamed to the stars, "If you can't take this feeling away from me, I'm out of here now!"
Immediately a feeling of total peace came over me
Immediately a feeling of total peace came over me and I knew there was a God, although I didn't know what to call him.
By this point I'd been a heroin addict for 27 years. Growing up on the rough Flowers Estate in Southampton, I was no stranger to fighting, theft and drugs. I had started taking cannabis when I was 12, but when I was 15 a friend offered me heroin. I told him I didn't like needles, but he kept on at me. I gave in because I was fed up with the Vietnam War and all the injustices in the world, and I thought I'd finally found a way to shut everything out.
From that age on I was addicted. I went to the chemist every morning to 'score' (buy drugs), then I'd go to school. I even sat my GCSEs on heroin! A few times, the teachers found me crashed out in the toilet, but they just thought I was stressed because of exams. When I finished school, I went straight to the GP who looked at the track marks on my arm and prescribed me heroin.
Everything spiralled out of control from there. Friends were dying nearly every week from heroin, through overdose or from illness related to their habit.
One time I was on the top deck of a bus during rush hour, with a needle hanging out of my arm, trying to start a fight with the commuters. The driver turned the bus around and drove me down to the Civic Centre, where I was thrown in a cell and later sectioned.
I ended up working for the Triads (a notorious Chinese gang) in London, since I figured that dealing drugs was safer than robbing people. I remember one 24-hour chemist in Piccadilly where hundreds of addicts would turn up to collect their legal heroin at one minute past midnight. Then we'd all go down to the tube station toilets to shoot up. You could see the sinks stained red with blood from the needles we'd washed out.
I'd been brain dead for four minutes
My family had no idea how serious my addiction was, until the day I took a massive overdose of methadone in desperation. My parents thought I was going to die and had the vicar come to the hospital to read me the last rites.
"I'm sorry, Mrs Light, there's nothing we can do," the doctor told my mother. By this time I'd been brain dead for four minutes. As the doctors fought to save my life, the most that was expected was that I would be a vegetable for the rest of my life.
Forty-eight hours later, I woke up and the first thought that came into my mind was that I needed another 'fix'. Ripping the drip out of my neck, I left the hospital and went in search of my contact to 'score' again.
I ended up clinically dead four times while on heroin. I never ate anything, only sweets and fizzy drinks. The police were always on my case. I was living a life of deceit, hiding the truth from family, friends and even from myself. But Jesus had not given up on me.
"How Jesus healed my junkie head"
The day after sensing God's peace for the first time in 1993, some friends took me to a little mission hall.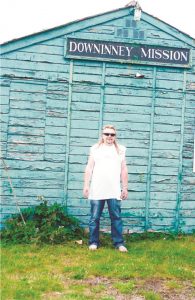 When the preacher, Pastor David Chaudry, asked who wanted to give their lives to Jesus, I stood up – I was the only one, but I knew I had to do it.
I was baptised within a few weeks, but my life was still a mess. About a year later, I was sleeping in my car, surrounded by thick Cornish fog, when I heard a tap on the window and saw a guy smiling down at me. "You look like you need some help," he said. "Do you want to come in? I'll give you a coffee."
He'd spend an hour telling me how Jesus could change my life
Barry, my rescuer, invited me to live in his caravan. From then onwards he would drive me to the chemist every day for my script, make me a coffee and spend an hour telling me about how Jesus could change my life. I realised had nothing to lose.
The pastors fasted for 40 days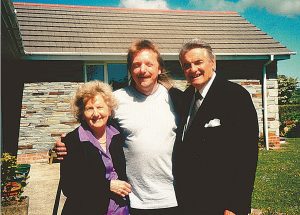 Soon I started going to church with him in Camelford, Cornwall, and met his pastors, Ken and Hilda MacLeod. Realising I needed some serious prayer, they fasted for 40 days. They had no idea about addiction, but they did know Jesus could set me free!
The week before I was finally free of heroin, David Chaudry prayed God would 'break' (cancel) the spirit of nicotine affecting my life. I'd been a lifelong chain tobacco smoker but I've never smoked a cigarette since.
I had been 'delivered' from 12 demons
Then came the day of my freedom from drugs. Barry and some other Christians gave me statements to read aloud inspired by Scriptures about the blood of Jesus. I started the first one, "By the blood of Jesus I am redeemed out of the hand of the Devil," but when I got to the word 'blood', it felt like someone was strangling me and I sort of passed out.
An hour or so later, I woke up in a pile of mucus and vomit – but I was totally buzzing! They told me later I had been 'delivered' from 12 demons. I felt so 'full' of the Holy Spirit I thought I would burst! I didn't have my 'junkie head' on any more. I snapped my needles and chucked the rest of my drugs down the toilet. I was free!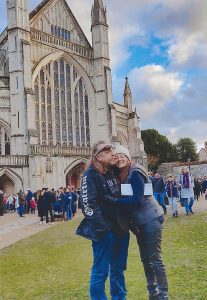 Not long after this, Ken and Hilda invited me to live in their nine-bedroom farmhouse. Every morning I used to devour the Bible with Ken in order to 'renew my mind' (change my patterns of thinking). I started doing odd jobs for people in the church and also got a part-time job milking cows for a Christian farmer.
In 1994 I met my wife-to-be, Colette, at a friend's house in Cornwall. I immediately felt the Holy Spirit tell me I was going to marry her, but kept quiet about it so she didn't feel pressured! We had our first date over a crab salad and got married in 1996.
By this time I had sensed God tell me to return to my old council estate. I was already visiting Winchester Prison to tell offenders my story and seeing many men give their lives to Jesus.
I was trusted with the keys to the drugs cupboard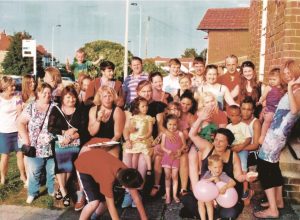 After we got married, we moved into a house on the Flowers Estate, and I found a job in a homeless shelter. I was even trusted with the keys to the drugs cupboard! Some of the addicts in the hostel used to throw bags of 'smack' (heroin) at me trying to entice me, but the Holy Spirit would tell me to walk away. It was as if I'd never done heroin before. This job funded our work on the estate for six and a half years, after which we started working full-time for Flower of Justice.
Today Colette and I continue to devote our lives to the broken and hurting in Southampton. Our house is open day and night for anyone who needs us. We live 'by faith' – often we don't even know how we will cover our rent at the end of the month – but God always provides somehow.
We have seen a lot of lives changed because Jesus gives hope to people and shows them the way out. If Jesus can do it for me, he can do it for anyone!
Adapted with permission from 'This Is My Offering' by Bob Light, available on Amazon.