God will fulfil the destiny He has for this nation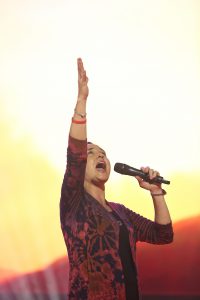 Charlene Kok of ministry team Vinesong sang without instruments in Wembley's vast arena where the Day of Prayer for Britain was held.
That was the stirring message received at the recent Day of Prayer for Britain as several thousand concerned Christians  gathered again to intercede for the nation.
Veteran Bible teacher and revivalist Rev Colin Urquhart made his first appearance at one of the prayer days organised by evangelist David Hathaway, and his revelation of what he believed he had heard from God about the state of the nation drew cheers from the crowd.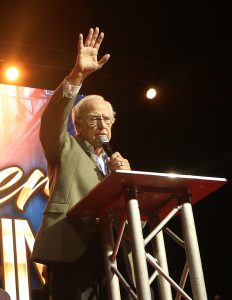 He told them he had asked God that morning, "Help us in this crisis!"
But God had replied, "What crisis?" and confirmed that his purposes for the nation would stand.
Rev Urquhart encouraged the participants to praise God, rather than pray out of fearfulness.
He prayed, "Lord, we don't know how you're going to work it out, but we proclaim your victory. No politician, no sociologist, no journalist can prevent you having your way."
This was a significant encouragement as thousands of praying Christians have unease at the prolonged battle over Brexit and Parliament's failure to implement the democratic will of the people expressed in the 2016 referendum.
During the day, there was much prayer for unity between communities in Britain and nations such as Ukraine and Russia.
David Hathaway had held Ukraine's fourth National Day of Prayer on 8 June and emphasised that the government "listened" to the Church when the different denominations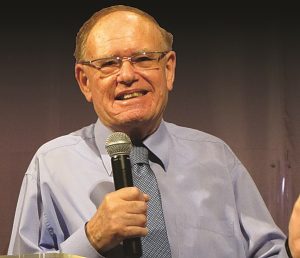 were united. However, he insists that participating denominational leaders uphold the Bible's authority: "We are united in this book, and this book glorifies Jesus."
Of Britain, he declared, "There's too much division: division between churches, between denominations, between cultures, division politically, spiritually… Break down the barriers, Lord, by the power of the Holy Spirit in Jesus' name!"
After the event, he reported, "From the platform, we saw a hall filled with the largest numbers we have experienced until now! The sense of unity and humility could be felt – for a day we became ONE – the Body of Christ on earth united in worship and prayer! Individual prayer is good, but united prayer is a command from God!"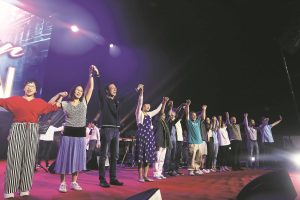 Prophetic minister Betty King asked Indian, Chinese and other minorities represented at the meeting to forgive the British for poor treatment which would have caused the immigrants to "put up barriers". She also asked the British for forgiveness "for where the people of this land have felt threatened by immigrants and that their jobs were being taken".
This meeting prayed less about politics than on previous prayer days; however, Berthold, a German businessman, reminded those present that his praying countrymen had been led, to their surprise, to pray for Brexit: "Three years ago, we heard from the Lord that he is going to do a new thing in Britain and bring revival back to the land. So this political crisis is about what God wants to do."
The centrality of Britain's relationship to Israel was emphasised by David Hathaway, Brenda Taylor and Barry Segal. Brenda Taylor said, "I believe many of our nation's woes began when we turned our back on Israel".
David Hathaway stressed, "The whole future of our nation depends on how we treat Israel."
Barry Segal of Vision for Israel asked the arena to pray that the Bible's prophesied war with Iran would not come before God's appointed time.
Melanie Symonds
Joining David Hathaway were other Christian leaders in Britain: Ian Cole, Colin Urquhart, John Glass, Yinka Oyekan, Steve Clifford, Betty King, Steve Botham, Ken Gott, Nims Obunge, Tobi Adeboyega, Preethy Kurian, Yemi Adedeji, James Aladiran, Nobin Samson, Regan King, Adele Richards, Peter Gammons and Dennis Greenidge.
Overseas guests who had flown in at their own expense to pray for Britain included Apostle General Sam Ankrah from Ghana and leaders from Ukraine and Russia, Germany and Israel.
Worship was led by Vinesong, Team Wembley (Truthvine) with Rebecca Aladiran and Donna Akodu, Rev Charles Benneh and Brenda Taylor.
More highlights from the National Day of Prayer for Britain, 31 August 2019
Barry Segal prayed against anti-Semitism in Britain and renounced the centuries-old curse over the nation brought about when Edward I expelled the Jews.
He said it was necessary to continue to pray against 'replacement' theology in many traditional and evangelical churches: "If we are to see revival in Britain, we must pray for revival in Israel."
Barry also spoke about the danger posed by Iran, referring to the August drone attack on Israel: "Iran tried to pre-empt a Middle East war, but by God's grace Israel shot them down. We must stand in prayer that these attempts to come against Israel will not provoke a war until the Lord allows it in his timing."
David Hathaway prayed that Israel's people would cry out for Messiah: "God, deliver your nation!"
Brenda Taylor played her beautiful song, 'City of God' about Jerusalem, sung by her daughter Julie, which they had also played and sung at the Balfour centenary celebration in the Royal Albert Hall in 2017.
She also highlighted that the prayer day was taking place on the 2nd of Av in the Hebrew calendar: "This is the day that Moses went up the mountain for a second time to receive mercy for an undeserving nation."
There was prayer for Northern Ireland and the new law removing the bans on abortion and 'same-sex' marriage, which will take effect if Stormont does not meet again by 21 October.
David Hathaway also said: "In our nation this very day there is a call from our leading politicians to disrupt our streets and our cities. But God is not a God of chaos, but of victory, order and power… O God break down the divisions in Britain, heal all the wounds. There's too much division: division between churches, between denominations, between cultures, division politically, spiritually… Break down the barriers, Lord, by the power of the Holy Spirit in Jesus' Name!"
On several occasions Betty King prayed for the people and Church of Britain, particularly that the restrictions and limitations would be lifted off the Church and that there would be healing between individual communities. Sharing part of her own story, she revealed that her grandfather was one of the first people to be knighted by Queen Elizabeth.
David Hathaway prayed: "Lord, we pray for evangelism in this nation. It's our job to declare your Name from one side of Great Britain to the other. We have been silent for too long. Raise up a whole army of evangelists now!"
One immediate answer came from a young London pastor who said that over 3,000 young people had "been to the altar and laid their knives down" this year. "We pray a lot all week and on Sunday we come out to play. Every Sunday we move from place to place. Some of the young people come to where we are to fight one another, but about 100 of them come forward and surrender their knives."
Sky News was making a documentary, he said, about Eliott, a 14-year-old Caucasian who had been selling knives and drugs to support his family, but has given it up after turning to Christ. The TV team wanted him to share a method, but the only reason he could give them was, "It's something about Jesus."
The pastor declared, "Revival is coming all over this city. Don't give up praying! We need money to house these thousands of young people coming to Jesus, whereas the Prime Minister wants to spend money on building more prison space."
Russia and Ukraine were remembered when ministers from both countries were invited on stage at the same time. David Hathaway has held evangelistic meetings in both nations for decades, as well as instigating and leading National Prayer Days in Ukraine for the past four years.
A minister from Siberia said, "Thousands of Russians are praying for Great Britain today. We love Britain and are praying for your unity."
Then David Hathaway asked the Russian and Ukrainian ministers to join hands and asked God to "heal the wounds" between the two nations, remove the barriers in understanding and to "Stop that war!"
Rev Dennis Greenidge, who works with David Hathaway as well as leading a London church, led prayer and also shared his miraculous recent healing testimony.
Pastor Dennis had been taken ill and was in an induced coma for five days. "I was told that if I survived, I wouldn't be able to walk for a year. My body had been cut open and left, ready for bags to be put in place – if I survived."
But his sister had marshalled prayer support from around the world, and Dennis came round from his coma to find the doctors and nurses crying. "They had said it would take a year to walk, but I walked in two weeks. All my scars are nearly healed."
The biggest lesson in this traumatic deliverance was humility: "We need to be liberated from the desire to be praised and honoured."
Here is the full text of Colin Urquhart's section and the prayers of some other leaders:
Colin Urquhart: I asked the Lord this morning, "Help us in this crisis!"
And the Lord said, "What crisis? Heaven isn't in crisis. I'm not in crisis. If your trust is in me, you won't be in crisis either!"
In Isaiah God says, "My purpose will stand and I will do all that I please. What I have said, that will I bring about, what I have planned, that will I do!"
So let the peace of God come upon you. The disciples were in crisis after the crucifixion. And Jesus came and stood among them and said, "Peace be with you!"
The Lord doesn't want us praying out of a sense of fear, which is the enemy of faith, but out of a sense of peace.
Lord, we know the sins of this nation deserve punishment, but we thank you that on the Cross, the punishment that you bore has brought us peace, and by your stripes we are healed.
And Lord, we know that you will bring peace where we see disorder and chaos.
you will bring about your plan and your purpose, when we do not even begin to understand how that could possibly happen in the present circumstances. But we thank you, Lord, that you are in control, you've never lost control and you will never lose control in this nation.
We as your children here acknowledge that you are Lord of Great Britain, you will always be Lord of this nation and you will fulfil the destiny that you have for this nation and no power of the enemy will prevent that. Nothing that the devil can do can undo what you have determined that you will do in this nation.
Now you can stand and begin to praise God for the victory. Jesus says that whatever you ask for in prayer, he will do.
We don't know how you're going to work it out, but we proclaim your victory.
No politician, no sociologist, no journalist can prevent you having your way.
And we thank you that we can pray with the absolute confidence. And we know that as we pray today, we cannot be denied. That which you cause us to pray must come about according to your purposes. Let it be your Spirit praying through us today, establishing your will and your purpose.
We are a people of faith, not of fear or doubt.
We thank you, Lord, that you have never failed to answer the prayer of faith, that you say that whatever we ask for in faith, we will receive.
Ken Gott: In the Garden of Gethsemane, Jesus took Peter, James and John with him and said, "My soul is exceeding sorrowful even unto death. Stay here and watch – while I go over there and pray!"
To me this is symbolic of his ascension to the throne, where today he is our great intercessor. He went 'there' to pray! Day and night. And he instructed us to 'stay', that we might 'watch' and pray.
It was a terrible hour. Jesus even asked the Father that the cup might pass from him, but yet he was willing to endure the cross, to drink that bitter cup.
And as he was praying, he came and found his disciples, who are symbolic of the Church, sleeping and he said, "Could you not watch one hour? Watch and pray, lest you enter temptation. The spirit is willing, but the flesh is weak!"
We are living in such an hour today. God wants to pray with us, like Jesus wanted his disciples to join him in the garden and pray. He WANTS us to join with him today and pray – because right now the Lord is praying for Britain, for us. And inviting us, as the Church, to join with him in prayer.
Maybe this hour has crept upon us because we have slept too much… Let us now watch and pray, wide awake, with our Lord, the great intercessor!
Apostle General Sam Ankrah from Ghana, representing the Commonwealth: God is faithful! Where there is unity, God commands the blessing. Because there is unity here between the black and the white, between the English and Chinese, the English and Indian, because of this unity, God WILL COMMAND HIS BLESSING one more time! Great Britain will recover again!
The whole of this morning, God has been whispering to my spirit, "Restoration!"
I asked, "What is this restoration?" He said, "Tell the house, the glory of the latter house shall be greater than the former.
"Great Britain, you are about to recover your former glory again, Great Britain, you will be the leader of world evangelism again. You will be the voice that people will listen to."
I come from a country colonised by Britain many years ago, and in 1957, Britain gave us our political independence.
I have come from Ghana to stand with the leadership of Great Britain, with this nation, to say that you are coming out of this crisis, Great Britain will recover one more time. The Glory of the Lord shall be shown.
The Lord says, "I will build my Church and the gates of hell shall not prevail!"
Steve Clifford, General Director, Evangelical Alliance UK: Hebrews 12 encourages us, since we receive a Kingdom that cannot be shaken, let us be thankful and worship God acceptably with reverence and awe!
Today in this place as the Spirit of God comes close to us, we receive the Kingdom – we are the bearers of the Kingdom, we have the message of a Kingdom that cannot be shaken. We worship a God who is intentional, he is intentionally at work today in the UK. Jesus said he only did what he saw his Father doing. Lord we want to be hearers of your Words that we might be doers of your Words. Pray with me, 'Enable me to hear more clearly. Open my eyes to see what you are doing by the Holy Spirit in my street, in my neighbourhood, in my work place, in my family – that I might get involved in and give myself to those things that you are at work in. Be at work in my life, in the everyday, in the ordinary things, in my relationships, and as I go about my life, empower me with your Spirit to serve you well.'