Spooky sensations are often passed off as harmless Halloween fun, but for one family, the daily terror of living in a former medium's house couldn't have been more real. Mum Beryl warns, "Don't dabble in the occult. If it wasn't for the power of Jesus, I wouldn't be alive today"
"Your father will soon be dead."
Shocking news at any time, but for Beryl and Steven Yeo, it was the last thing they expected to hear from the woman whose house they were buying.
The couple were looking forward to moving in with their 18-month-old daughter, and had taken Beryl's parents with them to measure for curtains. They shrugged off the sinister prediction from Mrs Dixon, the owner, as merely an odd comment. Otherwise she appeared to be a normal, intelligent woman.
In July 1968 they moved into the house in Welling, Kent. But three weeks later, Mrs Dixon's words came back to haunt Beryl when her father suddenly dropped dead, leaving her traumatised mother suspected of murder.
Within a week of his death, Mrs Dixon wrote to Beryl, asking if she'd like to "contact her father". When Beryl declined, Mrs Dixon sent letters accusing her of theft and threatening her with court.
It wasn't long until Beryl discovered that the lady was a medium and had held séances in her home. "Other mothers in the locality had always avoided Mrs Dixon's house," she says. "My dad was not the only person who had dropped dead after talking to her."
"An icy cold feeling would go right through me"
Little did she know that the spiritual forces left behind by this lady would wreak havoc on her marriage and family for years to come. Beryl now believes the demonic manifestations that followed had been given a spiritual 'right of access' through Mrs Dixon's occult involvement.
"I used to hear someone walking around upstairs and the smell of my dad's particular tobacco would go round the house. Sometimes an icy cold feeling would go right through me. One of my daughters saw a green lady beckoning to her outside her bedroom window. Another time at 4am I saw a cat on my bedroom wardrobe, but when it got to the edge of the wardrobe it carried on walking. My daughter reported seeing the cat in her bedroom as well."
Friends who visited also had terrifying experiences
Friends who visited also had terrifying experiences. "One time an old friend came to stay but left after the first night, saying her son had had a nightmare. Years later she told me that they were both being strangled in bed while wide awake.
"Another friend told me, 'Whenever we come to your house we have terrible arguments afterwards, and we never normally argue.'
"A school friend came to stay and then the police arrived to tell her that her husband was dying in hospital! He didn't die, but she never visited my house again.
"I never told anyone about the daily torment"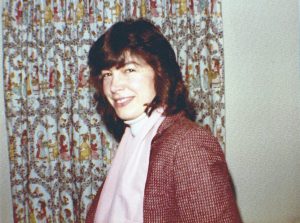 "I was so afraid people would think I was crazy and take me to a mental health hospital that I never told anyone about the daily torment we were experiencing. The only time I'd feel normal again was when we stayed at a friend's in Pevensey, but back in Sutcliffe Road, my girls and I would feel terrible depression."
As well as the nightly terrors, the neighbours made Beryl's life miserable. "The National Front headquarters was close by and we were looked down on as 'the Chinese family', because Steven was Chinese," she says. "The neighbours told us we were lowering the tone of the neighbourhood."
The demonic influences in the house caused serious problems in their marriage: "Not long after we moved in, my husband started getting very aggressive when he came home from work. From the moment he walked through the door, he physically abused me, even using martial arts.
"At night, I'd wake up thinking he was trying to strangle me in bed. I lay there feeling paralysed, unable to open my eyes or speak. He couldn't understand why I was blaming him – it was only later that I identified it as demonic activity."
The relational strife seemed to clear up immediately whenever they were away from the house. "When our family moved to Singapore for six months in 1971, the abuse completely stopped, only to start again once we returned to Sutcliffe Road." The strain on their marriage became so bad that they divorced soon afterwards.
Beryl believes the Church needs to be more aware of the dangers behind certain spiritual activities: "I'd attended church regularly until we moved into the house, but I hadn't been equipped to understand the spiritual realm."
"These little babies kept me going"
Throughout this time, Beryl fostered numerous babies and children. "Before getting married, I'd worked in a maternity home for unmarried mothers, so I was used to looking after babies. These little ones kept me going, and my girls loved them."
It would take a miraculous chain of events involving a foster boy before Beryl started praying to God again.
"God healed my foster baby's heart"
"In 1978, when my daughters were 10 and 11, we fostered a baby called Phillip who had a serious heart defect. The consultant said he only had months to live.
"One day after reading a church magazine, I found the courage to take Phillip over to the local curate's house, where he and his wife listened to my story. He agreed to visit later that day."
Beryl returned home where she was overwhelmed with "the worst fear I've ever felt". In her head she kept hearing, "Don't you dare let them in."
"I heard sword fighting and smelled strange smells"
Soon the curate arrived, accompanied by another couple who were missionaries in Africa and understood about voodoo and witchcraft. "We held hands and prayed in every single room in the house. I heard sword fighting and smelled strange smells. I didn't even know the word 'exorcism' existed, but I now know they were driving out evil spirits in Jesus' name."
"You are going to be like a lighthouse, warning others"
Finally they took communion downstairs, and one of them received what they described as a prophetic message from God: "This has been a house of darkness, but it's going to be a house of light. You are going to be like a lighthouse, warning others." This was confirmed by a group of Christians who had been praying for them at the same time and also received the same words and picture.
The difference in the house was tangible
Beryl found the difference in the house was tangible. "Whereas I'd been overwhelmed with a sense of darkness in the house before, now it felt light and 'normal' again."
Within a month, Steven turned up on the doorstep out of the blue: "He said, 'I always thought I'd be with you for the rest of my life. We should never have moved into this house.' He explained that every time he went to work he used to feel sorry for how he'd treated me, only to have the aggressive feelings return the moment he walked down the garden path." By this point Steven had a new partner and children, so he and Beryl decided to remain apart.
"Great Ormond Street Hospital couldn't work out why he wasn't ill anymore"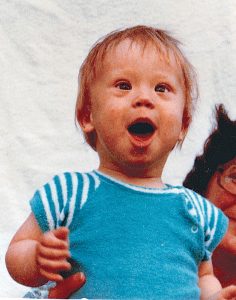 A few days after praying in the house, the curate also prayed for baby Phillip. "I didn't take much notice," Beryl admits. But that night, she couldn't hear his wheezing and discovered that he was breathing peacefully for the first time. "I took him back to the doctor, who couldn't believe it was the same baby and said I'd done a miracle with him! Great Ormond Street Hospital couldn't work out why he wasn't ill anymore.
"I gave up fostering shortly afterwards, but visited Phillip's new family every week.  It was only during this time that I finally realised God had healed Phillip. I got down on my knees and said, 'Right God, over to you – I know you're real now. I've messed up, but here's my life. What do you want me to do?'
 "Right God, over to you – I know you're real now. I've messed up, but here's my life"
"The answer came the following day, when Social Services rang to ask if I would foster one last baby for three months. She later became my third daughter. It was a decision that changed my life, but I've never regretted it.
"After I gave my life to Jesus, it felt as if a thousand-piece jigsaw came together; I finally understood what life was all about. I spent a wonderful year praying and reading my Bible and also started attending the local C of E church. In 1980 I got baptised by full immersion."
However, this was not to be Beryl's 'happy ever after'.
"How persistent prayer 'cleaned up' my house"
Within 18 months of praying with the curate, Beryl noticed the atmosphere indoors was becoming dark again. "The sense of fear re-entered the house, but this time it was worse."
The antisocial behaviour in the neighbourhood also worsened when a friend of Mrs Dixon's moved in next door. "I remember her standing and screaming at me, 'I am a witch and I am cursing you.' Her behaviour also included various threats and physical attacks. Once a policeman was called but he returned from her house speechless and so shaken that he was unable to continue his shift. This lady had already been banned from entering Hastings and Westminster. It was like being a prisoner in my own house again.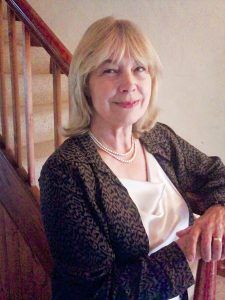 "When I sought help from the local church, the new vicar informed me that Jesus had dealt with everything at the Cross 2,000 years ago. But later I felt God show me that although the house had been 'cleaned out', it had been left spiritually 'empty', ready for worse demonic forces to re-enter like Jesus warns of in Luke 11:24-26."
Beryl believes the demonic activity in the house had long term repercussions on her children's mental health: "Over the years my daughters struggled with suicidal tendencies, drugs and depression."
"He refused to sleep with the light off"
Beryl remarried in 1985, but her new husband also had problems in the house. "He had been a soldier and fought against the IRA, but the very first night he experienced something pinning him against the wall. From then on he refused to sleep with the light off.
"He became abusive, but the church I was attending advised me I just needed to be more submissive. They didn't seem to be aware of the spiritual problem. I'd vowed I wouldn't get divorced again, so now I was terrified both of staying with him and of getting divorced. Eventually our marriage ended."
"I've got you in the palm of my hand"
During this time Beryl was comforted by what she describes as a prophetic message which she received from American minister Charles Slagle: "You've escaped with your very life, but I've not allowed the enemy to overtake you. I've got you in the palm of my hand."
In 1989, Beryl met a group of Christian ladies who understood the reality of the occult.  "They began meeting regularly in my house to worship, pray and 'plead the blood', making spiritual declarations about the finished work of Jesus on the Cross. We would pray together for hours; I felt that we were reaching Heaven.
"The leader believed God showed her that the house had been dedicated to Satan, so they continued this 'spiritual warfare strategy' for six months. Eventually the house felt free – I knew there had been a spiritual change." The house had been on the market for two years but sold soon afterwards.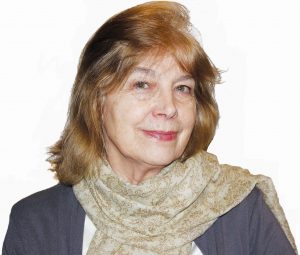 Today Beryl wants to warn anyone who is drawn to any form of witchcraft: "People need to realise they are opening a spiritual door through dabbling in occult activities like fortune telling, yoga, horoscopes, Ouija boards, hypnosis, etc. Demonic activity is the biggest trick of Halloween.
"More importantly, I want people to know the love and power of God. If it wasn't for the resurrection power of Jesus, I don't believe I or my children would be alive today.
"God had a plan through all of this and the best is yet to come."
To print a copy of the pages to give to a friend click here