Miracles of healing and salvation were the order of the day when teams of Christians hit the streets of a West Midlands town
Legs grew and symptoms disappeared after prayer from members of various churches in Dudley, West Midlands.
The church members had come for evangelism training led by Ben Fitzgerald of Awakening Europe and hosted by Trevor and Sharon Baker of Revival Fires Church, Dudley.
During the five-day event at the end of August, participants learned how to present the Gospel in three simple steps: share your story, explain your encounter with Jesus, and find out the person's need.
Pastor Drew Kear of Coastlands Church, Worthing, took church members Gail Course, Louise Jones and Martin Augustyniak who are already involved in local outreach.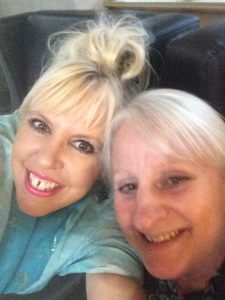 They went out on the streets in teams to put into practice what they had learned, and met people who prayed to give their lives to the Lord each day. This included some children, who were drawn to the music and dancing and asked, "Is this about Jesus?"
Gail said: "I led a 7, 12 and 15-year-old in a prayer of salvation while Louise was leading the mum to the Lord! God arranges all things!"
They also had a fruitful conversation with a man from Ireland. Louise said: "I had prophetic words for him. I said I felt he was not connected to the power source, Jesus. He only knew religion and not a real relationship. We prayed together and although he did not do so then, I feel strongly that he will commit his life to God."
The teams talked with people from many different cultural backgrounds, including Indians, Romanians and Afghans. Gail commented, "For me it broke a barrier to speaking to Muslims; they were really open."
Not only were people responsive to the Gospel, but the teams witnessed miracles as well. Louise said: "I spoke to a lady with a walking stick who had a son with autism. She was on respite that afternoon. As I prayed, the Holy Spirit lifted her burden as a carer, and the pain in her leg also eased."
Working with another team member, Martin saw people's uneven legs grow out to the same length after praying for healing in Jesus' name.  One is captured on a video; interestingly, the young man sees his leg grow through the prayer of faith in Jesus' name before he prayed to receive him as Saviour.
Gail added: "We prayed for a lady's very swollen ankle with a pin in it. The swelling went down, all pain left, and she was able to walk and bend it (the pin I believe got dissolved). Wow!"
Reflecting on their own experience, Gail said: "It's time to start reaching out to the lost. Time is running out. This is a Heaven or Hell issue! Even just telling someone, 'Jesus loves you' can be a seed."
Louise added: "Sharing the Gospel is really easy; just be yourself and share your relationship with Jesus. A few years ago I brought a very broken neighbor girl to church. She got saved but then wandered back into the world and died a few months later on the back of a motorbike. If I had not talked to her she would not be in Heaven. The harvest is ripe but the labourers are few."
Rachel Cary