England heroes unashamed of belief in God.
Three of England's star footballers have spoken openly of their Christian faith.
Bukayo Saka, the 19-year-old who faced the crushing disappointment of missing England's tie-breaking penalty against Italy in the Euro finals, grew up in a strong Christian family.
He told pupils at his old school: "My faith is constantly being exercised when I'm put in different situations or I play in big football matches such as my England debut." The promising teenager, who also plays for Arsenal, no doubt drew on his faith to cope with the racial abuse that followed the Euro defeat.
"Before every game I ask God to help me play well,"
Saka said: "I hold onto God's promises such as the Scripture 'Therefore I tell you, whatever you ask for in prayer, believe that you have received it, and it will be yours.'
"Before every game I ask God to help me play well, help my team and try to score a goal or assist a goal and he answers my prayers so this is why I point to the sky to thank him," he said.
Until moving nearer to Arsenal two years ago, Saka attended Kingsborough Centre, a Pentecostal church in Uxbridge. His Instagram bio reads "God's Child".
England manager Gareth Southgate, who was seen hugging Saka after the match, referred to a greater openness toward faith among players in a 2010 interview. While Southgate is not known to be religious, a member of his coaching team, Chris Powell, is a Christian. "It gives me a great joy to know that the Lord is around me at all times," he said.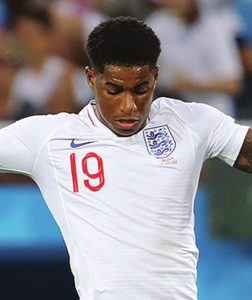 Another England player not ashamed of his faith is Marcus Rashford, whose recent campaign against child poverty saw two government U-turns on free school meals.
Rashford, 23, was brought up as a practising Christian by his single mother Mel, who worked three jobs to provide for him and his five siblings. He told The Guardian in May: "The faith we have in God is shown by the people that we are.
"For me and my family, that's definitely the case. If you could see our lives 15 to 20 years ago to where we are now, it's impossible not to have faith in God and all he does for us."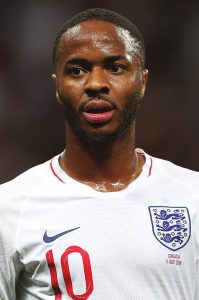 A third team member with an awareness of God is Raheem Sterling, whose goal on 29 June helped catapult England to the quarter finals.
"A lot of scientists tell you that there

has to be a Creator"
Sterling shares a home with his fiancée currently and has not always endeared himself to fans, but he told journalist Alistair Campbell in 2018: "[My faith is] massive to me. I always give thanks for my life, always give thanks for my family's life and I'm just really grateful for the position I'm in."Despite the tragic murder of Sterling's father when he was just two years old, the footballer says he has "no doubts" that God exists. "I know for sure," he says. "A lot of scientists, the cleverest people in the world, tell you that there has to be a Creator. And they need answers, but you just have to sometimes accept that it's bigger than you and you have to leave it at that."
Sterling, 26, also speaks out against racial discrimination in sport, and is being recognised with an MBE for his work.
Matt Baker, who directs Sports Chaplaincy UK, told Premier Christian News that there has been "an influx… of players of faith over the last 20 years".