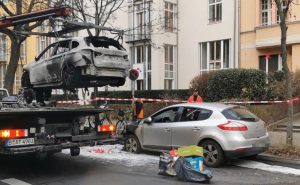 A journalist supporting the March for Life in Germany was targeted by a feminist group who set fire to his car and publicised his home address – where his children also live.
Extremist pro-abortion group Feministische Autonome Zelle celebrated the attack on Gunnar Schupelius, posting online: "Every year he heavily promotes the March for Life… We torched his SUV today."
"We will not be bullied into silence"
Michael Robinson, spokesman for the Society for the Protection of Unborn Children (SPUC), said: "As the pro-life movement advances, so do attacks on pro- life people. We will not be bullied into silence."
According to SPUC, attendances at pro-life marches across Europe have been increasing. In the UK, 5,000 people joined in the London March for Life last year, 20,000 protestors supported pro-life demonstrations in Northern Ireland and there are more pro-life societies at universities – despite increasing opposition from student unions.