The United Methodist Church (UMC) of the USA is resolving its dispute over gay 'marriage' by splitting.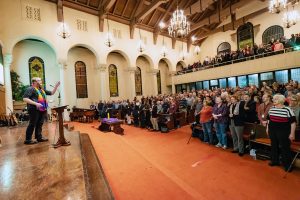 The Washington Post reports that the agreement enables UMC clergy who officiate at same-sex weddings to avoid suspension or expulsion. By default, local churches will continue to be part of the UMC, but if they vote to leave they can join a new, traditionalist Methodist denomination that will be set up. The plan will be enacted if it is approved by the General Conference in May. A committee decided that separation was the "best means to resolve our differences, allowing each part of the Church to remain true to its theological understanding".
In a report on Radio 4's 'Sunday' programme (12 January), a Methodist spokeswoman in favour of liberalising their theology revealed that delegates had apologised for poor behaviour and name-calling during their debates.