Now merely agreeing with an orthodox opinion makes you unfit to play for your country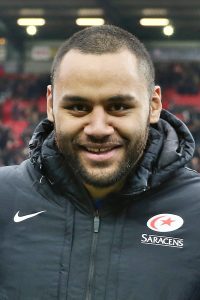 AS THE Rugby World Cup starts in Japan in September, Billy Vunipola will be a dead cert for the England team if he's fit.
But it's his fitness to represent the team off the pitch that has been questioned this year – simply because he shared his orthodox Christian opinion.
Vunipola invited the wrath of the politically-correct establishment when he agreed with Aussie player Israel Folau's forthright views, even though he phrased them in a much more sensitive way.
Folau was sacked in May as an international rugby player because of his social media post warning a list of different people that they needed saving by Jesus or they would go to hell. His inclusion of homosexuals on the list caused the whole thing to blow up in his face. We would probably have never known about his comments otherwise.
Folau's contract would have been terminated even if he'd merely posted the 'offending' Bible passages on social media.
The Chief Executive Officer of Rugby Australia revealed the organisation's anti-Christian bias by suggesting that she would have terminated Folau's playing contract even if he had merely photocopied the 'offending' Bible passages and posted them on social media, with no comment of his own.
Having lost his appeal, Folau is now likely to take Rugby Australia to court for religious discrimination. When he tried to raise money for legal action through a GoFundMe campaign, the fundraising platform shut down his page. But then in just two days Christians raised more money for him than he lost through GoFundMe's action.
GoFundMe shut down Folau's page
When Vunipola was hauled over the coals by England's Rugby Football Union for supporting Folau, he "expressed genuine regret", said the RFU, because he hadn't meant to be offensive. The RFU stated: "He has been reminded of his responsibilities as an England player and as an ambassador for the game, which values inclusivity and respect."
A spokesperson for the Evangelical Alliance defended Vunipola and asked whether the RFU was really as inclusive as it claims to be: "As rugby celebrates diversity and inclusion, does this allow for orthodox Christian beliefs, or is that the one view you must not have?"
The player released his own statement saying he had not intended to "cause suffering".
"I can see that my recent post has hurt people," said the Saracens forward. "My intention was to express my belief in the Word of God (the Bible).
"These beliefs are a source of great strength, comfort and guidance in my life. Anyone who knows me, knows I live with kindness and love towards ALL people.
Billy's post had called for people to "live their lives how God intended"
"My Christian faith has sustained me through the ups and many downs of my life. God has given and continues to give me many reasons in life to be grateful."
He was booed when he played for Saracens.
Billy's post had called for people to "live their lives how God intended" – which applies to far, far more than sexual issues, but he was booed when he played for Saracens.
There are much more sensitive ways of sharing the Christian faith than Folau's blunt Instagram post, not least by mentioning that God loves all people, regardless of sexual orientation. The truth is that we all face separation from God in the next life if we reject the One he sent to save us – Jesus. We are all in the same boat, the ultimate inclusiveness. Nothing we do will make God love us any less, or any more than he already does.
But biblical views on sexuality are now so derided by Western society that merely expressing them is enough to get you fired.
By Andrew Halloway