Amid the charred remains of this church stands the altar Bible without so much as a scorch mark.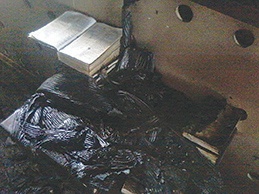 Unsurprisingly, the Christians who used to worship here believe the undamaged Bible is a sign from God to encourage them in their faith after their church was firebombed.
Islamic fanatics first doused the Evangelical Christian
Baptist Church in Kaji-Say, Kyrgyzstan, with petrol before setting it alight during the night of 3 January. The fire engulfed pews and the altar cloth, but went out just before reaching the open Bible.
Firefighters arrived in time to save the building. It is thought that the church's outreach events may have prompted the attack.