Another fresh start for an uncertain Christina on her way home to Dohuk
PRAYING into impossible situations can be draining, even for the most ardent prayer warrior, especially when facing a hopeless scenario – but God has a plan.
HEART readers will remember a call to pray for toddler Christina Ebada. The little girl, aged three at the time, was snatched crying from her mother's arms by a heavily bearded, gun-wielding ISIS militant who boarded a bus in Baghdede, Iraq in August 2014 (reported in HEART Oct-Nov 2014).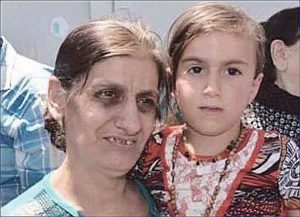 At the time, a spokesman for Assyrian International News Agency told HEART directly that there "is now no hope" for the recovery of Christina.
God, as ever, had the final say – Christina has been found and restored to her family!
The Iraqi Army is reported to have contacted her parents in the summer (2017) to say the girl was liberated and they were told to go to Mosul to pick her up. Film footage has shown the emotional reunion.
Christina's brother said: "We are overjoyed that our Christina has been returned to us safely. I thank all those who have prayed for her safe return."
It is believed that Christina was looked after by an unrelated wealthy family after her abduction. She can only speak a few words of Arabic and appears to have forgotten her native Assyrian tongue.