Graphic image display outside the Royal Albert Hall, 6-7 May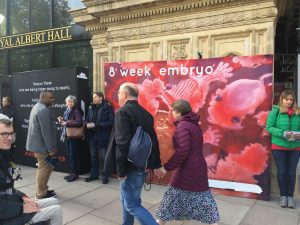 Pro-life advocates reported "significant apathy" from church leaders to the reality of abortion after staging a public education display outside one of the UK's largest Christian leadership conferences.
Volunteers from the Centre for Bio-Ethical Reform UK (CBR UK) stood beside graphic images of aborted foetuses outside the Alpha International Leadership Conference at the Royal Albert Hall.
CBR volunteer Tim Boulton reported: "The response was very mixed, with groups of delegates… seeking us out with discreet words of encouragement, some mocking, one lady even saying our presence 'was inappropriate'."
The 5,000-strong conference addressed knife crime but failed to mention the approximately 200,000 deaths to abortion in England and Wales every year.
Dave Brennan, executive director of the pro-life ministry Brephos, said he had unsuccessfully tried to engage Nicky Gumbel, vicar of Holy Trinity Brompton and developer of the evangelistic Alpha course, on the issue of abortion for nine months.
A prayer on the conference's promotional video stated: "Lord, pull me out of the convenient, the comfortable, the predictable. Challenge my complacency."
"We believe we were an answer to this prayer even if we weren't officially included on the conference program," CBR team member Christian Hacking told HEART.
Volunteers said that most of those who responded to them were Catholics and foreigners, especially Americans.
Dave said: "The one billion or so abortion deaths over the last century dwarf fatalities caused by knife crime, terrorism, famine and world wars combined. We are sleepwalking through the greatest genocide in history. That's why, when we find that the leaders of conferences are not interested in addressing it on the inside, we won't hesitate to address it on the outside."