ISRAEL PUTS IRAN ON NOTICE
Iran is just "a few weeks" away from a bomb
Benny Gantz, Israel's defence minister, has effectively put Iran on notice, saying that Iran is just a "few weeks" from being able to make a nuclear bomb.
With Iran's mullahs openly calling for the annihilation of the Jewish state, Israel has always said it will not allow them to develop a bomb. Moreover, whereas President Trump pulled out of President Obama's 'deal' with Iran to limit its nuclear production, President Biden is offering a new deal which is said to be "far, far worse" than Obama's 2015 deal.
A statement from 49 US Republican senators on 14 March 2022 said: "By every indication, the Biden administration appears to have given away the store…. What is more, the deal appears likely to deepen Iran's financial and security relationship with Moscow and Beijing, including through arms sales."
The Gatestone Institute reports that the European Union appears "excited" that the nuclear talks have reopened again to revive the nuclear deal that will bring nuclear weapons to Iran, the "world's largest state sponsor of terrorism," and additional billions of dollars. In the meantime, its says, the Biden administration and the EU have remained silent in the face of the Iranian regime taking more politicial hostages on trumped up charges, such as happened to Nazanin Zaghari-Ratcliffe until Britain's Foreign Secretary Liz Truss settled an unpaid debt for tanks of nearly $400 million.
Gantz said in a speech at Reichman University in Herlizya in May that Iran is working on 1,000 new advanced uranium centrifuges at new underground sites being built near its Natanz nuclear plant, providing figures that appeared to extend beyond those published by the International Atomic Energy Agency. And Israel knows exactly how long it is going to take the Iranians to prepare, effectively putting Iran on notice.
At the beginning of his speech, Gantz linked the defence of Ukraine, where he said Israel was in the right place "ethically and strategically," to the Iranian threat, saying it was "correct to mobilise economic, diplomatic, and if necessary, military might, as soon as possible, to perhaps prevent war."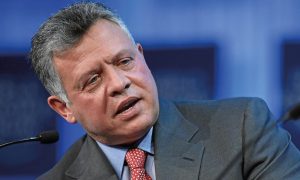 He called for a multi-pronged regional and global pressure campaign against the Islamic republic to stave off possible war. The King of Jordan has warned that Iran and its proxies are filling a vacuum left by Russia in southern Syria as Russia withdraws its forces to bolster its Ukraine invasion, according to The Moscow Times. King Abdullah II has stressed that Russia's presence in southern Syria was a "source of calm". Speaking at Stanford University's Hoover Institution in May, he said: "Unfortunately we're looking at maybe an
escalation of problems on our borders."
According to a report on 20 May in the Dutch press, several bases abandoned by the Russians have been transferred to Iran's paramilitary Revolutionary Guards Corps, as well as the Lebanese terror group Hezbollah. Jerusalem and Moscow have in recent years maintained a so-called deconfliction mechanism that works to prevent Israeli and Russian forces from clashing in Syria. The new development could be problematic for Israel, which has sought to prevent Iranian entrenchment in Syria. Israel has waged a years – long campaign of airstrikes aimed at pro-Iranian fighters located there and at preventing the transfer of Iranian-supplied weaponry.
It was also reported in late May that Israeli planes flying over Syria in operation against Iranian-backed targets had been fired at, which is a very unwelcome development.
Sources: Christians United for Israel, Gatestone Institute
---
THE ROYAL FAMILY
The nation's Platinum Jubilee celebrations of Her Majesty's 70 years on the throne will inevitably highlight the Queen's physical frailty.
Pray for her health; she will be succeeded by a King who has endorsed the Great Reset (previously reported in this paper) and its environmental goals. Whether King Charles will be ready to "own nothing and be happy" is not known…
In 1952 the coronation service was Christian, with songs based on Scripture. While Prince Charles has, according to Christian Concern co-founder Ade Omooba, been misquoted over his desire to be 'Defender of Faith' (apparently the heir to the throne took 15 minutes to explain to Rev Omooba what he had actually meant), the clear adherence to Christianity as the state religion has already lapsed. A subscriber has pointed out that on 1991's Commonwealth Day, the Queen gave permission for the Koran and other books sacred to other religions to be read as part of the act of worship in Westminster Abbey.
The Queen has often referred to her own Christian faith in her Christmas messages; pray that her children and grandchildren will come to realise their need of a personal Saviour.
---
THE CHURCH
Pray for the Church in Britain to focus on the Great Commission: to seek and save the lost and to have faith to see people healed, rather than abrogating responsibility for healing to the authorities. May churchgoers recognise the lateness of the hour; prophet Tobi Arayomi said in 2021 there were nine years left of Church freedom; that would coincide with the UN's Agenda 2030 succeeding.
Pray that Christians will remember they are citizens of heaven and be ready to stand up for biblical values and not compromise out of fear: "The fear of man is a snare."
Author and house church planter Jason Carter is one of those who anticipates a Chinese-style 'State Church' emerging in Britain where politically correct preachers avoid addressing biblical morality. He also urged believers to ensure they have their own supply of 'oil' – a deep relationship with God, born out of full surrender and Bible knowledge – not just rely on their pastor.
He told a meeting on 21 May: "This is the time to build community as per the New Testament model across the UK and the world, to have a lifestyle of evangelism. Print and hand out your personal testimony."
---
EVIL LAWS AND TREATIES
"Forbid evil laws and treaties to be signed. Decry the evil actions of those in power. Do not be afraid. Stand together, for there are more with you, and more with me, than you can imagine…Cry out for justice together."
From a prophetic message received by Kathleen Mitchell on 19 May 2022 in Jerusalem, sent out by Pastor Jeff Daly of National Day of Repentance (www.repentday.com), three days before the WHO (World Health Organisation) met in Geneva to vote on the Biden administration's proposed amendments to the IHR (International Health Regulations), "which would essentially hand over sovereignty to the WHO."
Boris Johnson is among leaders who have already indicated their approval. Mat Staver, a lawyer and one of the US's National Prayer Assembly presenters, has warned: "The WHO, like the United Nations, has sovereign immunity from lawsuits. This means you cannot take the WHO to court when it infringes on your freedom, or when its "directives" (like mandatory jabs) injure you. The WHO has 194 member countries that control 99.94% of the world's population. The WHO launched international vaccine passports in March 2022; giving it sovereignty would globalise vaccine passports."
Digital ID: Among several laws that have quietly been passed while the media focussed on Covid and Ukraine is the first part of the UK's Digital ID Framework which would be required for legal transactions. An article by Rev Andrew Baguley, author of 'The Covid Tyranny', will be on our site. Please email if you cannot find it.
Vaccine damage: The Expose reports that the ONS's (Office for National Statistics) latest figures reveal 70,000 people in England have died within 28 days of Covid-19 vaccination and 179,000 have died within 60 days. Data confirms it can take just five months for the Covid-19 vaccinated to develop Acquired Immunodeficiency Syndrome, plus children's risk of death increases for 10-14 year olds by 82 to 303 times following Covid-19 vaccination. More information from news@dailyexpose.uk