The Israeli media are talking of "When, not if" war breaks out in the Middle East, American-Israeli Messianic leader Barry Segal has warned.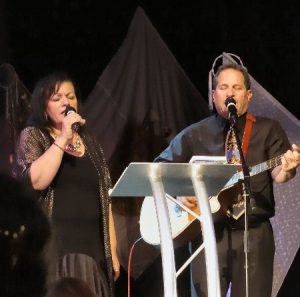 Hezbollah has planted rocket firing sites in 200 Southern Lebanon villages, using their populations as human shields. Military leaders anticipate thousands of casualties in Lebanon alone.
Barry reported, "Iran has turned war-torn Syria into the largest military base in the Middle East and Lebanon is turning into a weapons factory. Russia is profiting from it all – yet now Iran and Hezbollah have grown so much that they are dictating terms to Russia. Prime Minister Netanyahu has frequently met President Putin to warn him about the next war."
Speaking in late February at various branches of his Moriah Fellowship, Barry explained that his humanitarian aid charity, Vision for Israel, was rushing to complete its Millennium Centre outside Jerusalem, which will be a prayer and aid base for war victims.
Sword, or the Lord?
With all the threats Israel is now facing, it is perfectly understandable that they should be sharpening their swords as they prepare for the worst the enemy can throw at them.
A strong defence force is certainly necessary. But an even more serious danger is that they should rely on the power of their weapons, or indeed on their own strength of will and character, along with their growing expertise in military innovations.
It is dangerous because it demonstrates that they are relying on what the Bible refers to as "horses and chariots" rather than on the Lord who called them, as his chosen people, to be a light to the Gentiles.