President Donald Trump and First Lady Melania laid a wreath on 27 January, Holocaust Memorial Day, at the World Economic Forum, watched by Israeli Prime Minister Netanyahu and his wife Sarah. Immediately behind the President are his daughter Ivanka and her husband, Jared Kushner
AT LEAST ten countries are in talks with Israel over relocating their embassies to Jerusalem following President Trump's landmark decision in December 2017 to move the US embassy to Jerusalem, thereby recognising the city of David as Israel's capital.
Guatemala swiftly followed in the same month and now other nations are also considering the move.
Although Israel's Deputy Foreign Minister Tzipi Hotovely would not reveal names, The Times of Israel reported her as telling Israel Radio that "some of them" were "in Europe". Romania and Poland have been indicated, the latter contrasting surprisingly with the new law passed by the Polish parliament which bans the term 'Polish death camps'.
The part played by prayer
AMONG THOSE those rejoicing over the US government's decision to act on its previous resolution to move its embassy to Jerusalem are members of the Jerusalem Prayer Team.
This worldwide prayer movement was congratulated by its founder, Dr Mike Evans, a close ally of Prime Minister Netanyahu. Dr Evans met him as a young man when he was mourning his hero brother Yonatan Netanyahu, killed by terrorists in the raid on Entebbe. Accurately, Dr Evans prophesied that the grief-stricken Binyamin would be Prime Minister of Israel twice.
Dr Evans told the Jerusalem Prayer Team, "The historic announcement that President Trump made regarding official recognition of Jerusalem as Israel's capital was not the result of chance or coincidence. It was the direct result of the prayers of God's people."
Back in May 2017 Dr Evans launched a 'Move the embassy' campaign at an event to mark the 50th anniversary of the liberation and reunification of Jerusalem in 1967. It was aimed at encouraging Mr Trump to fulfil his campaign promise about Jerusalem. As a member of President Trump's Faith Advisory Council, he was able to talk "over and over" with, among many others, Vice President Pence, Jared Kushner and his wife Ivanka Trump and David Friedman, the US Ambassador to Israel.
But in June Mr Trump signed the waiver that kept the status quo, as previous presidents had done. Dr Evans said, "We did not give up! We increased our efforts… and our prayers."
Instead, by the time the President addressed the nation last December, he had instructed the State Department to begin the process of relocating the embassy from Tel Aviv to Jerusalem.
"The enemies of Israel were outraged, but God controls the hearts of world leaders," said Dr Evans. "I believe he intervened to bring the President to make this vital decision… This major change in US policy will shape the destiny of the nations for years to come."
Boris commits UK to a divided Jerusalem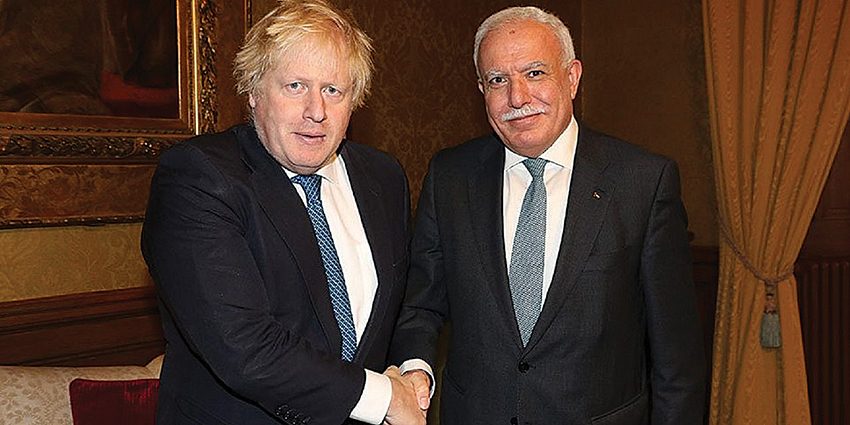 MEANWHILE UK FOREIGN Secretary Boris Johnson has committed the UK to a divided Jerusalem. The British Embassy to Israel is currently in Tel Aviv, despite Britain's representative to the Palestinians being situated in Jerusalem.
A petition by CUFI-UK (Christians United for Israel UK) calling for Britain "to put right this hypocrisy and recognise Jerusalem as the capital of Israel" had reached over 26,000 by late January.
But Boris Johnson said Jerusalem should ultimately be the "shared capital of Israeli and Palestinian
states", according to a statement released by the Foreign Office. Johnson, who welcomed Palestinian Foreign Affairs Minister, Riyad al-Malki, to the Foreign Office on 8 January, said, "It should be determined in a negotiated settlement between the Israelis and the Palestinians, and Jerusalem should ultimately be the shared capital of the Israeli and Palestinian states."