Still going strong: Freddie and Anne Gallichan (left) have been sharing the Gospel in old people's homes for 25 years (joined here by friends Margaret Skuse and Jean Malpas, right)
A captive audience and a warm welcome – what's not to like about holding a service in an old people's home?
Elderly people in care homes often can't get to church, so enterprising Christians are bringing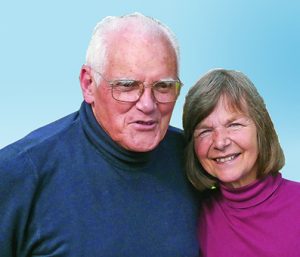 hymns and the Gospel message to them.
Freddie and Anne Gallichan have been holding Gospel services in homes across Bristol for 25 years, and currently visit up to 20 homes each month. Their Good News Team is linked with Müllers, the Christian charity continuing the legacy of George Müller, whose famous Bristol orphanages cared for 10,000 orphans.
At 87, Freddie, who only retired from his piano-tuning business two years ago, is relaxed about being older than some of the residents themselves: "I don't retire, I refire!" he says.
His wife Anne, 71, says: "Some elderly people don't get visitors, but it's so important they know people appreciate them. They are on the edge of eternity and need to hear about Jesus' love."
Freddie and Anne sing hymns accompanied on Freddie's accordion, then give a short sermon with a clear Gospel message and Scripture readings. Many residents have dementia, but Anne says, "Hearing the hymns stirs old memories."
Residents are left with a printed Scripture verse to read. Freddie and Anne know they won't always see results this side of heaven, although Anne reports, "A highlight from our visits was baptising one gentleman in the bath!"