The church where the mass shooting took place is taped off in Sutherland Springs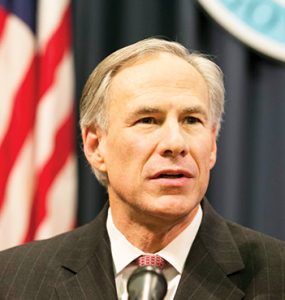 Governor of Texas Greg Abbott led the call for prayers for the town of Sutherland Springs where 26 people died in a church shooting on 5 November.
The Governor seemed close to tears while making a statement to news channels just hours after the gunman attacked the First Baptist Church during their Sunday morning service.
In an emotional update broadcast live on BBC News and Sky News, Governor Abbott said: "We ask for God's comfort, for God's guidance and for God's healing for all those who are suffering." He added that the incident was the deadliest mass shooting in the state's history.
In an official statement he later said: "While the details of this horrific act are still under investigation, Cecilia and I want to send our sincerest thoughts and prayers to all those who have been affected by this evil act. I want to thank law enforcement for their response and ask that all Texans pray for the Sutherland Springs community during this time of mourning and loss."
President Trump tweeted: "May God be w/ the people of Sutherland Springs, Texas."
The victims ranged in age from 18 months to 77 years old. Twenty-three were found dead in the church, two outside, and one died after being taken to hospital.
Among those killed was the 14-year-old daughter of the church's pastor.
A local man exchanged gunfire with the killer outside the church, probably preventing further loss of life, and another, Johnnie Langendorff, drove both of them in pursuit of the killer. The high speed chase ended when the shooter lost control and crashed, and died from gunshot wounds. It seems he was wounded by the local man who fired on him, but also shot himself – as we went to press, an autopsy had yet to determine the cause of death.
A candlelit vigil was held for the victims.