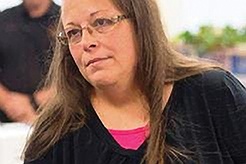 AN AMERICAN MARRIAGE CLERK was released from jail after taking a stand against gay marriage because of her Christian beliefs but then found herself under fire for multiple divorces in her past.
Kim Davis, 50, hit international headlines after District Judge David Bunning sent her to Carter County Detention Centre in Kentucky for six days. She has now been released after she was found guilty of contempt of court for refusing to issue same sex marriage licences.
She said: "To affix my name or authoritative title to a certificate that authorises marriage that conflicts with God's definition of marriage as a union between one man and one woman violates my deeply held religious convictions and conscience."
However, Mrs Davis had been a Christian for just four years and the international media caught up with her colourful past. Even Britain's Daily Mail tried to paint her as a hypocrite with a shady past who had been divorced multiple times.
But a report by 'Decision' magazine detailed her remarkable spiritual journey, showing that only in 2011 was she 'radically saved' during a church memorial for her mother-in-law.
The report notes that her "deep devotion to Christ is rooted in the love and grace she received at her conversion more than four years ago which she said followed years of 'living in a pit of sin that I had created with my very own hands.'"
The article says Mrs Davis is grounded in the peace of God that "passes all understanding" and notes that she prays regularly for "the salvation and protection of the same-sex couples who have assailed her."
She said, "We serve a living God who is alive and on the throne. He knows exactly where I am and I know that his hand is upon me and upon his people. He is in full control."
Mrs Davis concluded, "If the Word of God isn't worth fighting for, I don't know anything that is."
The conditions for her release allowed her to remove her own name from gay marriage licences after she returned to work on September 14. However, Deputy Clerk Brian Mason claimed the new licences have been altered by Mrs Davis to delete the name of the county and any references to deputy clerks. He also said he had to sign the licences as a 'notary public' rather than deputy clerk.
The jail sentence followed the US Supreme Court legalisation of same sex marriage. Mrs Davis's attorneys are currently preparing a lawsuit in state court against Kentucky State Governor, Steve Beshear.