In association with the 6:19 Trust
In all our lives there are moments when we stop and ask ourselves this question.  The problem is knowing what the 'more' might look like, and where it might be found.  So Turn The Page is a new free app that delivers two 60-second stories each week to help the enquirer find the 'more' they've always longed for, and to point them to Jesus as the only one who can satisfy this longing.
Perfect for anyone attending an Alpha or Christianity Explored course, or for those who come to a Messy Church, Café Church or any guest event, the stories appear in both audio and script form.  The app is linked to a website www.turn-the-page.co.uk that contains an archive of stories, testimonies, and information about what a Christian is and how to find a local church or enquirers course.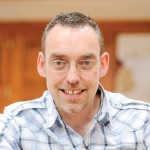 Turn The Page was designed by Simon Allaby and has grown out of many years of writing similar stories for UCB radio.  Simon is an Associate Evangelist with J John's Philo Trust and also a recommended speaker with Christian Vision for Men. In 2009 he set up an evangelistic ministry called the 6:19 Trust that seeks "to make known the mystery of Christ" through evangelistic preaching and training and equipping the local Church.  He currently combines this work with also serving as Pastor of Bolney Village Chapel where he lives with his family.
Simon is available to present Turn The Page Live as an evangelistic event, perfect for an Alpha Supper or similar occasion.  For more information about Simon and Turn The Page please go to www.turn-the-page.co.uk or www.sixnineteen.co.uk and feel free to contact him at enquiries@turn-the-page.co.uk.