THE PRICES OF CHRISTIAN SLAVES captured by Islamic State militants in Iraq have been published.
Women aged 40 to 50 each cost £27; 30 to 40-year-olds are £40; and 20 to 30s are £54. Girls aged 10 to 20 are £80 and children aged one to nine are £107. According to the campaigning charity Barnabas Fund, IS said in a document that prices needed controlling due to a 'significant decrease' in the market selling 'women and spoils of war'. Yazidi slaves are also sold. IS has vowed to execute anyone who does not abide by the price controls it has imposed, and individuals are not allowed to buy more than three – unless the buyers are foreigners such as Turks, Syrians and citizens of the Gulf Arab states.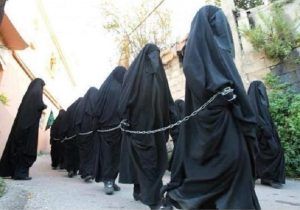 Women and girls who have escaped have appalling stories of seeing their husbands killed and being kept in brothels run by British Muslim women.
Sharia law allows Muslims to take human beings as slaves as part of their war booty in the context of jihad.
IS militants took over large swathes of central and northern Iraq over the summer, causing at least 160,000 Christians to flee to safer areas. The few Christians remaining under Islamist rule have the choice to pay jizya (a humiliating tax indicating their inferior status), convert to Islam, flee or be killed.
Chris Eyte